What Is Towing Capacity Of Toyota Tundra? [Answered]
The Toyota Tundra 2021 is a capable pickup truck that's ready to tow your next load. The towing capacity of the Toyota Tundra is between 8,800 and 10,200 pounds.
Towing capacity is determined by a number of elements, including the drivetrain, trim level, and bed size.
If you're looking for a new truck for towing and can't decide between a new Toyota Tundra and a used Tundra, you're undoubtedly interested in the Toyota Tundra towing capability.
To help you pick the right truck for the job, we've put together a Toyota Tundra towing capacity by that shows how much the Toyota Tundra can tow.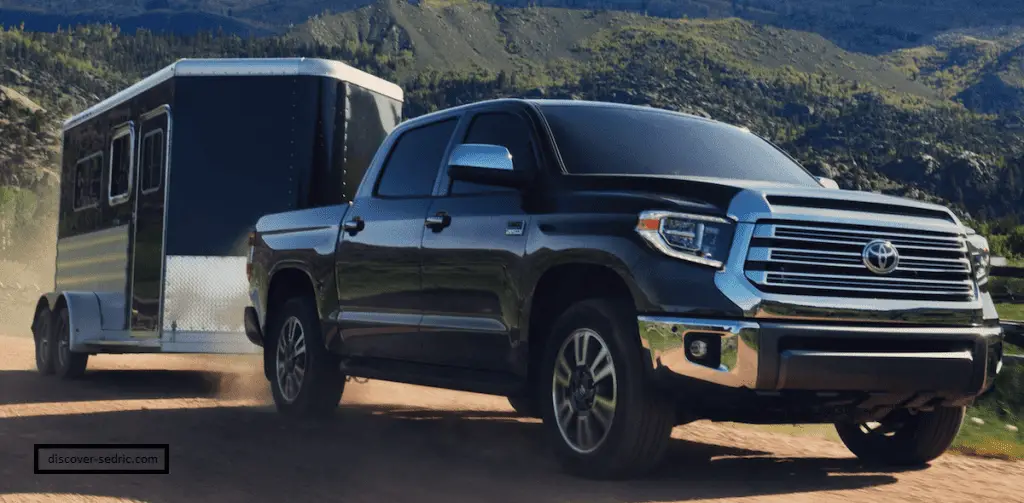 Which Toyota Tundra is the finest towing truck?
If you need the most towing capability out of your Tundra, the SR or SR5 is the way to go.
The maximum towing capacity of both Tundra trim levels is 10,200 pounds.
With a maximum capacity of 10,100 pounds, the Tundra Limited is a terrific option as well.
Trim Levels for the Toyota Tundra
Although the SR and SR5 Tundra trim levels are the least expensive, they provide a wide range of upgrade options.
They also have some of the highest towing capacity of any trim level available. You can upgrade to the Limited model for a few more convenience features.
For the 2021 Toyota Tundra, Toyota provides three higher-end trim levels:
TRD Pro, 1794 Edition, and Platinum. The TRD Pro has several good off-road features, such as an improved suspension with Fox brand shocks as standard.
The TRD Pro has a towing capacity of 10,100 pounds because to its double cab and rear-wheel drive.
Only the CrewMax cab is available in the 1794 Edition and Platinum trims.
The rear-wheel-drive model's towing capability is reduced to 9,400 pounds, and the four-wheel-drive model's towing capacity is reduced to 8,800 pounds.
While these higher-end models won't tow as much as the SR and SR5s, they come standard with a slew of tech and convenience features that could make them the ideal balance of performance and comfort.
Payload vs. Towing Capacity
You'll want to opt for a rear-wheel-drive Toyota Tundra with the SR or SR5 trim package if you want the most attainable towing capability and payload.
The double cab with a normal bed has a towing capacity of 10,200 pounds and a payload of 1,730 pounds.
These capacity will be reduced when features are added.
It's crucial to evaluate performance and capability with other features that may be standard on the trim model you're considering if you don't need to optimize the towing potential of your new pickup.
Characteristics That Affect Towing Capacity
The 5.7-liter V-8 engine produces over 380 horsepower and 400 pound-feet of torque when paired with the six-speed automated transmission.
The Tundra's towing and hauling capabilities are aided by its powerful engine, but there are other aspects to consider.
The highest towing capacity is obtained by selecting the double cab over the CrewMax and the standard bed over the long bed.
Why? Because the truck's final curb weight influences how much extra weight can be towed when the truck's own weight is taken into account.
The Drive offers a great guide if you want to understand more about how towing capacity is calculated.
Keep in mind that the payload capacity is much lower than the towing capacity because the cargo is supported by the truck's suspension, whilst the trailer is supported primarily by its own axles.
When carrying and towing, you'll need to do some quick arithmetic to make sure you're not overloading your truck's capacity.
Extra Feature included in the Tow Package
A tow package offers various modifications in addition to the standard features that make the Tundra a good choice for individuals who want to tow, whether occasionally or on a regular basis.
You may improve your pickup's hauling performance with these upgrades.
Higher Gear Ratio in the Rear Axle
While a larger rear axle ratio is expected with any towing package, the jump to 4.300:1 is a significant boost for those planning on doing some serious lifting.
Any larger ratio has a natural impact on fuel economy while also considerably increasing the truck's towing capacity and payload limit.
Run at a lower temperature and for a longer period of time.
Towing puts a lot more load on your engine than regular driving.
If you expose your engine and transmission to too much heat, the oils that lubricate them will begin to break down.
The life of your powertrain could be drastically reduced if it is not properly lubricated.
Supplemental coolers for both the engine oil and transmission assist extend the life of the Toyota Tundra Tow package.
Maximum Strength
You'll have enough power for the added load thanks to a heavy-duty 170-amp alternator and a battery to match.
Thanks to these enhancements, the electronic brake controller, trailer lights, and all the other extras that can put a burden on a regular alternator and battery will have no problems.
You can hitch up and carry just about any sort of trailer that is within towing capacity thanks to the built-in four- and seven-pin connector.
What is the maximum weight that my Tundra can carry?
After reading our Toyota Tundra tow capacity, you should have a clearer idea of which model years you should look for if you want to trailer everything you need.
The 2021 Tundra is available in a variety of appealing trim options for the 2021 model year, all of which are equipped with modern safety technologies and linked audio integration systems to allow you enjoy a safe journey while staying connected to your world.
The Toyota Safety SenseTM P suite of advanced safety technologies and six-passenger seating are standard on the 2021 Tundra SR.
When towing dirt bikes or jet skis, the integrated backup camera will assist you in reversing out of tight circumstances and aligning your trailer hitch.
You'll appreciate the Toyota Tundra's towing capacity if you prefer to take advantage of the weekend and bring a few toys along for the ride.
With the new Tundra's towing capacity of 8,800 to 10,200 pounds1, you can easily carry a 5,000-pound speed boat and a few other items.
When translating pounds to kilograms, the Toyota Tundra towing capacity kg ranges from 4,100 to 4,700,1 kg, depending on the body design.
When You Need Towing Features
Tundra's Tow/Haul mode keeps your truck in lower gears for longer, ensuring you have the torque you need.
This increases pulling force while also reducing engine braking for more efficient hauling. When you use the four- or seven-pin plug in the back bumper, this mode is automatically triggered, but you may also manually activate it with a button on the steering column.
A trailer brake controller update is also included in the tow package. When towing a trailer that is compatible, the weight of the trailer will be used to determine how much trailer brakes you use.
These systems, in addition to trailer sway control, may detect trailer sway and apply braking pressure to specific wheels.
Additional Tundra Features
The new Toyota lineup for 2021 is rather impressive, and the Tundra is no exception.
This full-size vehicle is packed with cutting-edge technology, convenience, and safety features that will leave you speechless.
Connecting to the multimedia dash, whether you favor Apple, Android, or Amazon, makes road trips more enjoyable and driving safer.
The Tundra, with its emphasis on storage, has numerous unique areas both inside and out where you can store your belongings.
This pickup comes with a huge central console on the inside and lockable bed storage compartments in the bed, to name a few storage possibilities.
Other Toyota Vehicles
(FAQ) Towing Capacity Of Toyota Tundra
How much weight can a Toyota Tundra 5.7 liter pull?
10,200 pounds
The Tundra comes with plenty of power supplied by the standard 5.7L V8 engine.
This engine will generate 381 horsepower and 401 lb-ft of torque.
With that power, the Toyota Tundra will be able to tow a great deal of weight–it has a max towing capacity of 10,200 pounds.
Can a Toyota Tundra pull 10000 pounds?
The Towing Capacity of the 2022 Tundra Has Been Increased.
The 2022 Toyota Tundra has increased its towing capacity from 10,000 pounds to 12,000 pounds, which is a significant increase.
The maximum payload of the Tundra has increased from 1,660 pounds to 1,940 pounds.
Can a Toyota Tundra pull a 30 foot trailer?
Toyota Tundra is a truck manufactured by Toyota.
It may not have the most up-to-date amenities, but it is capable of towing and off-roading. With so much power, it's one of, if not the finest, full-size pickup trucks for towing a 30 foot trailer. The 5.7 Liter V8 engine in the Tundra is pretty powerful.