Does Prius Have Heated Seats? [Answered]
Nowadays, many car manufacturers consider heated seats a standard feature rather than a luxury.
But, does Prius have heated seats? 
There are 7 different trim levels for the most recent Toyota Prius.
Heated seats are not standard or optional on the first three lower trim levels but on the last four higher trim levels. 
Let's talk about the heated seats in the Toyota Prius since they are a luxury many people love.
Even though heated chairs are a wonderful treat for our backs and buttocks, they can be harmful to our skin, so it's nice to be aware of both their benefits and potential drawbacks. 
Additionally, we'll discuss how to fix broken heated seats and install aftermarket features if your car doesn't come standard with heated seats.
Related Articles:
How Much Does A Toyota Sequoia Weigh? [Answered]
How Much Can A Toyota Prius Tow? [Answered]
VIDEO: Does Prius Have Heated Seats?
The comfort features of the 2022 Toyota Prius
Every passenger will appreciate the abundance of comfort amenities in the new 2022 Toyota Prius' interior. 
The 2022 Toyota Prius is the most comfortable hybrid in the automotive business because of its extensive list of comfort features. 
Passenger favorites like a sunroof, automatic climate control, power windows and locks, SofTex® front seats, heated front seats, keyless entry, push-button start, and many others are included in the long and impressive list of comfort options that are offered in the 2022 Toyota Prius.
Features of the Toyota Prius interior technology in 2022
No automaker offers you more technology than Toyota, and the new 2022 Toyota Prius Hybrid is a prime example of this. 
The 2022 Toyota Prius provides all the features you require, from keeping you entertained while traveling to keeping you connected.
The new 2022 Toyota Prius Hybrid comes with a variety of available technological options, including an 11.6-inch touchscreen display, Apple CarPlay®, Android AutoTM, a JBL® audio system, SiriusXM®, Bluetooth®, USB ports, a heads-up driving display, a wireless smartphone charging, and many others.
Low and high options for heated seats on the Toyota Prius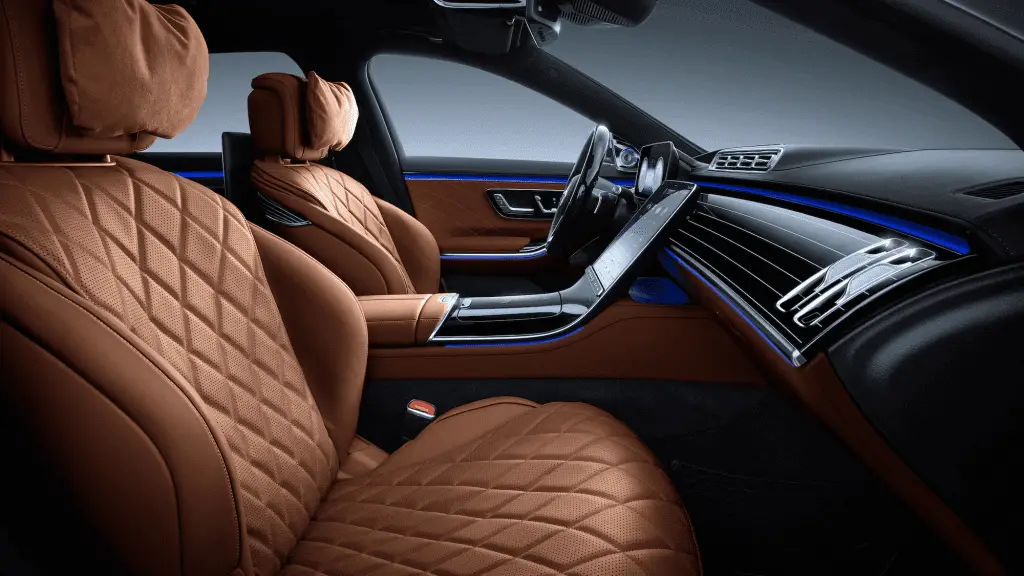 One button per side, with Low and High settings for each, is located on the center console of a newer Toyota Prius equipped with a set of heated front seats with SofTex trim.
The recommended method for using these settings is to place your seat on High until you feel warm enough, at which point you should lower the setting to Low.
Any issues you may have with feeling too warm and toasty should be resolved by taking this procedure.
And, of course, you can turn the heat off if it becomes too warm on Low.
Before getting into your Prius, if you want your seat to be heated.
If your car can be started remotely, all you need to do is make an effort to remember to turn on the heated seats, probably on Low, before you leave.
 Because it can sometimes take longer than we anticipate to reach our vehicles when they are running, you should set it to Low. 
If it is left on High for an extended period of time, your seat may get uncomfortable from the heat. 
When you enter, you may always click the setting to High.
Potential Risks That Heated Seats May Pose
Most heated car seats heat to a temperature of 86 to 113 degrees, while some models are much more powerful. 
Some of those seats have a maximum heat capacity of 120 degrees or 150 degrees Fahrenheit in just 10 minutes. 
You could sustain third-degree burns as a result of this.
Most people, but not all, would sense this before it occurs.
 Third-degree burns can be all too real if you suffer from diabetes, neuropathy, or other physical issues. 
Additionally, you may experience Toasted Skin Syndrome, which exists in real life. 
The skin on your back, thighs, legs, and buttocks may start to brown, redden, or get discolored over time if you spend too much time roasting your buns on heated seats.
Awareness of yourself and your gear is the most excellent way to prevent these kinds of injuries.
 What you are wearing and whether you are sitting on a leather-heated seat or a cloth-heated seat will have more of an impact on the type of injury that could occur than the outside temperature.
There is less possibility that you may expose your skin to potential harm if you are wearing layers or thicker garments.
 Additionally, leather seats increase the risk of skin damage, whereas cloth seats often present less risk.
How to Install Replacement Seats in Your Toyota Prius
The dealership won't be pleased if you try to install aftermarket heated seats in a lease vehicle. 
However, you have choices if you already own a Prius and it doesn't come with heated seats. 
There are businesses that market heated seat kits for particular vehicles.
Don't bring any old kit with you. 
A professional opinion should be sought if you are unsure whether a company is credible.
Furthermore, unless you have received professional training, you should never attempt installing these aftermarket components yourself due to the risks involved.
The risks include the potential for spontaneous seat fires and/or skin burns if the heat is not turned off by the regulator when the seat reaches its hottest point.
Here is an estimate for how much it would cost to buy a heated seat kit for your Prius and have it installed. 
You can anticipate paying between $350 and $500 per seat. 
In addition, there are several factors that affect price, like the material of the chairs and other features like lumbar support.
What to Do if Your Heated Seat Doesn't Work
Heated seats occasionally break and require repair, just like any other group of auto parts. Sometimes the repair is minor, and other times it is significant.
You might be able to avoid taking your car to the mechanic if the repair is minor and potentially save some time and money.
How to Fix Your Toyota Prius' Heated Seats.
Check Fuse: Your initial action should be to inspect the fuse box. 
This can frequently be a quick repair for various minor issues with your car. 
You can find your fuse box using your owner's manual if you don't know where it is.
 You can find the fuse box's location and the precise fuse that the heated seats are using in the owner's manual.
By reading that section of the Prius owner's manual, you can get instructions on pulling the fuse and what to look for when determining whether the fuse is terrible. 
Fuses are cheap and easily accessible at any hardware or auto parts store or location with an automotive section, such as Walmart, Meijer, or the car audio department at Best Buy.
 If this was the issue, avoiding taking your automobile to a mechanic saved you a lot of hassle, time, and money.
Verify Plug and Connections: 
The heated seat wiring harness connects to the car wire harness, which is located underneath the seats.
 You can separate these two plastic connectors.
Individuals think it's a fantastic idea to store their trash and other items under their chairs, although doing so risks jarring the connector loose. 
Your chairs should function properly again if you can reach them and put them back together (they only go one way).
Toyota Prius Types
Toyota Prius XLE
Toyota Prius V
Toyota Prius Prime
Toyota Prius LE
Toyota Vehicle Model
Toyota Highlander/Toyota Highlander Hybrid
Toyota Yaris
Toyota Corolla/Toyota Corolla Hatchback/Toyota GR Corolla
TOyota RAV4/Toyota RAV4 Prime
Toyota Land Cruiser
Toyota Camry
Toyota 4Runner
Toyota Crown
FAQ on Does Prius have Heated Seats
The seats on all Prius models are heated?
Standard interior features include heated front seats and fabric upholstery. Synthetic leather upholstery, an eight-way power driver's seat, and a heated steering wheel are optional.
What trim of the Prius offers heated seats?
The XLE replaces the 15-inch wheels with 17-inch alloy and titanium wheels. Eight-way adjustable, heated seats are standard. Additionally, the XLE-AWDe offers wireless charging and a heated steering wheel.
Which models of Toyota have heated seats?
Does the Prius have heated seats?
The Toyota Corolla Cross 2022 does include heated seats. In the XLE trim, the front row has them as standard equipment. That's fantastic news for motorists who want to settle into a heated seat on a chilly or really chilly winter day.
Do 2012 Prius seats have heat?
While non-heated fabric seats are standard on the normal Prius, heated fabric seats are standard on the base Prius Plug-in. The front seats in the Prius Four and Prius Five are heated and have motorized lumbar support.
Are the seats on the 2022 Prius heated?
Passenger favorites like a sunroof, automatic climate control, power windows and locks, SofTex® front seats, heated front seats, keyless entry, push-button start, and many others are included in the long and impressive list of comfort options that are offered in the 2022 Toyota Prius.