Toyota C-HR Best and Worst Years (Top Picks!)
A brand-new crossover SUV called the Toyota C-HR debuted in 2016. This car's elevated seat height and sporty, coupe-like styling have made it famous.
The C-HR is an excellent vehicle with its best and worst model years. So to help you get the most out of your C-HR, we've looked at these excellent and subpar years.
Join us as we investigate the various elements that set each year apart.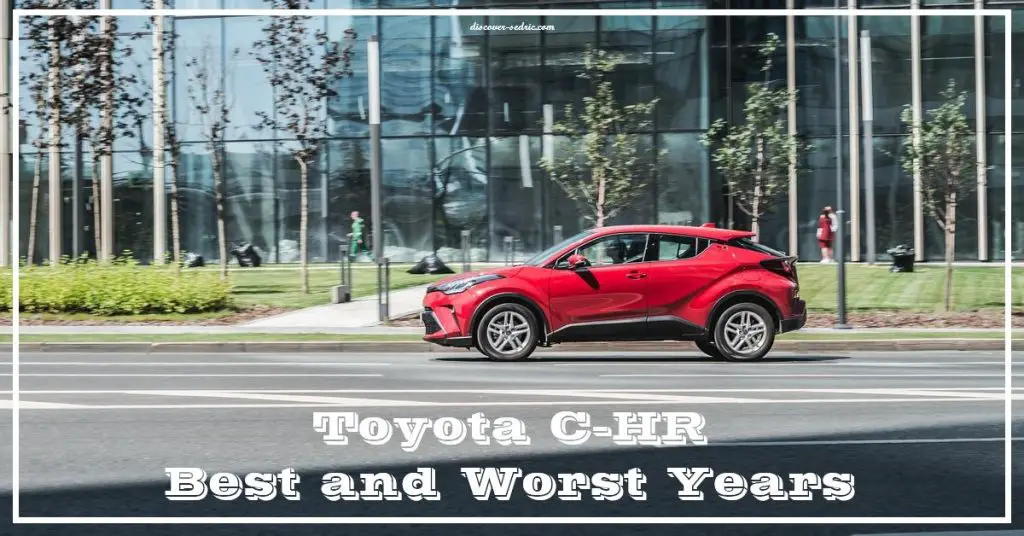 VIDEO: Toyota C-HR Review
Toyota C-HR Best and Worst Years
The 2018 Toyota C-HR is the year model to avoid, according to CoPilot, because of several outstanding complaints. The 2018 Toyota C-HR, on the other hand, is the best year model to purchase used, according to the same source, as it provides significant savings compared to purchasing new. However, due to its sluggish acceleration, MotorBiscuit believes the C-HR to be the worst Toyota model and suggests against purchasing it. While offering stories and videos about the C-HR, Consumer Reports does not explicitly name any models as the best or worst year models. However, according to CarShtuff, the best-year Toyota C-HR has a 2.0-liter, four-cylinder motor that makes 144 horsepower and 139 lb-ft of torque and is available in all trim levels.
What Years of the Toyota C-HR Are the Most Reliable?
These model years have the fewest issues and problems, following owner concerns and the opinions of many auto experts. Below, we examine them.
Toyota C-HR 2017
The 2017 C-HR has so far gotten primarily positive feedback from its owners. Most owners loved how enjoyable it was to drive, how fuel-efficient, how comfy, how well-equipped, and how stylish and unique it looked.
Car Complaints has received only one complaint for this model year on its website. It includes engine problems that lead to
lowering of power
An offensive odor, and
A jerky vehicle
Even though engine problems are frequently severe, this model year was dependable due to the few to no complaints.
For the 2017 C-HR, however, NHTSA found no reports or recalls. Noting that the 2017 model year may be highly reliable according to these numbers, it is also possible that this is due to the 2017 model year's limited availability in America (the C-HR was not made available in America until 2018).
Due to this, most American auto experts cannot evaluate the 2016 and 2017 model years. However, CarsGuide assigned the 2017 C-HR a reliability rating of 4.5 out of 5 stars based on the Australian database.
It received a five-star safety certification from ANCAP, an Australasian program that evaluates new cars.
According to a study, most American auto retailers and websites do not offer the 2017 C-HR for purchase. However, customers can use online retailers to purchase one from Australia.
Toyota C-HR 2020
The 2020 C-HR is famous for its
Striking design
Managing agility
Full-speed range dynamic radar cruise control
Affordable price, plus more
Car Complaints reported 13 complaints from owners overall.
However, the NHTSA site only recorded seven owner complaints and one recall. Either way, these reports are fewer compared to some year models.
The 2020 C-HR also proves reliable, with the best reliability ratings from many car experts.
According to Cars.com Consumer Review, this model year has a reliability rating of 5 out of 5 stars and an overall rating of 4.9, which is excellent. Additionally, 96% of drivers recommended the car, based on 26 reviews.
J.D. Power awarded the 2020 C-HR a predicted quality and reliability rating of 86 out of 100, which denotes an excellent reliability score.
This model year has a safety rating of 9.9 out of 10 from the Insurance Institute for Highway Safety (IIHS). This denotes the highest rating of 'Good' in most categories.
The National Highway Traffic Safety Agency (NHTSA) also awarded it a five-star for safety, which is excellent.
2021 Toyota C-HR
The 2021 C-HR includes many characteristics that set it apart from its competitors. These characteristics include its
Low prices
Fuel efficiency
Good grip
Little body roll, and
Excellent handling, among others
It is also one of the most reliable model years, with fewer complaints compared to the others.
Car Complaints reported only two complaints on its platform and 19 combined with NHTSA reports. However, the NHTSA only reported nine complaints and one recall for this year.
Cars.com reported a 4.8 reliability score and a 4.9 overall score from 27 reviews, while 96% of drivers recommended the car. J.D. Power also awarded the car an 80 out of 100 scores for predicted quality and reliability.
For the safety rating, IIHS awarded the 2021 C-HR a 9.6 out of 10. It also awarded it its Top Safety Picks. NHTSA also awarded it five stars for safety, which denotes excellence.
Overall, the 2021 C-HR is another good choice for buyers considering getting a used car.
2022 Toyota C-HR
Enough features come with the 2022 Toyota C-HR, which makes it popular among car owners.
They include
A fun and engaging handling
A comprehensive set of driver aids
Standard features that offer excellent value
Strong fuel economy, and
Bold exterior styling
According to Car Complaints, the 2022 C-HR has received zero complaints from owners. The NHTSA also recorded zero complaints and recalls.
For ratings, J.D. Power rated the 2022 C-HR strongly by awarding it 81 out of 100 scores for quality and reliability. Cars.com rated it 5.0 out of 5 stars for reliability and 4.6 stars for overall rating.
The safety ratings reported a 9.3 out of 10 scores from IIHS, which denotes a "Good" overall rating.
The NHTSA also awarded it a 4/5 star safety rating, with four stars in the frontal collision and rollover test and five stars in the side impact test.
From these reports, the 2022 C-HR is undoubtedly a reliable choice for buyers, but would you like to know how long Toyota C-HR will last?
What Toyota C-HR Years Should You Avoid?
Toyota C-HR model years do not have many complaints compared to some competitors. However, owners have reported higher complaints in some model years than the others. We explored them below.
2018 Toyota C-HR
The 2018 C-HR reported the most complaints from owners compared to other C-HR model years. According to Car Complaints, the 2018 model year has 130 complaints overall.
The NHTSA, however, reported 80 complaints and one recall.
The recall includes the electronic parking brake (EPB) that may not function properly, while complaints include issues with the windows/windshield, as some owners reported windshield damage, which in most cases, needed a replacement to fix.
Note that this was costly, according to these reports. However, a few owners have reported this may be owing to a defective or lousy slant to the windshield.
There are also complaints of window issues relating to visibility, where owners complained of limited visibility in the sides and rear, making it difficult to see when reversing or changing lanes.
Some owners further reported the body between the back window and door window barricaded the visibility of oncoming cars.
Other complaints include issues with the suspension, which can be noisy and uncomfortable, especially while navigating uneven terrain.
There are also reports of transmission issues that can cause the transmission to jerk or lurch occasionally, significantly, while changing gears slowly or when the car is starting up.
A few owners also expressed their displeasure with the significant wind noise that their cars make when traveling at high speeds, especially on the driver's side.
Other complaints owners have reported faults with the
Electrical systems, including the infotainment system malfunction
Warning lights turn on suddenly, and
The battery depletes too quickly
While we can't explore all complaints, other issues include
Problems with the fuel system
Brake problems
Engine issues
Issues with steering, among others
However, aside from these complaints, some car critics have awarded the C-HR high-reliability ratings, which means this model year is all right.
Such is the reliability score of 4.8 out of 5 stars from Cars.com consumer reviews. It got 88% of recommendations from drivers based on 199 reviews.
J.D. Power also gave it an above-average score of 4 out of 5 predicted reliability scores. The safety ratings also feature a safety score of 9.3 out of 10 scores from the IIHS and 5 out of 5 stars from the NHTSA.
However, opting for this model year, buyers should consider the complaints from owners, which is the most of the model years. Though fewer than in some competitors.
2019 Toyota C-HR
The 2019 C-HR has the most complaints after the 2018 model year. However, these complaints are fewer than specific brands in the same category.
Car Complaints states the 2019 model year has 38 overall owner complaints. NHTSA, however, reported 20 complaints and three recalls.
The first recall includes a seat belt webbing sensor locking mechanism failure to lock.
The second recall addresses the rear axle hub-bearing bolts that didn't tighten properly, and the third addresses the load capacity label's lettering that had become unreadable.
However, complaints include issues with the transmission, where the CVT transmission can be abrupt or slow to react, significantly when changing gears at low speeds or when the car is starting up.
Owners also reported electrical difficulties that affected the infotainment system negatively, causing it to freeze or resume suddenly.
Some owners, however, reported experiencing the effect of electrical issues on the warning lights in their vehicles, which can turn on erratically.
A few owners reported significant wind noise that their cars make when traveling at high speeds, while others mentioned premature rotor and brake pad wear that can cause less effective braking.
Complaints also include fuel inefficiency in the car, where the fuel efficiency is less than they expected and more.
However, most car critics rated the 2019 C-HR above-average scores for reliability. According to U.S. News and J.D. Power, the 2019 Toyota C-HR has a little above-average reliability score of 3.5 out of 5 stars.
Cars.com consumer review, however, awarded it a Reliability score of 4.8 out of stars, while 93% of 92 reviews recommended the car.
Safety ratings include 9.6 out of 10 from IIHS and 5 of 5 stars from NHTSA, both excellent scores.
These ratings denote the 2019 C-HR may be another alright model year, except for the complaints, which are more than other model years.
What Are Some Typical Problems With the Toyota C-HR Models?
Although owners have reported many issues in their C-HR, some are more typical in some model years. We listed them below.
Transmission difficulties
Electric problems
Brake issues
Visibility issues
Issues with fuel efficiency
Suspension issues
Problems with engine efficiency
How Safe Is Toyota C-HR?
The Toyota C-HR is typically regarded as a secure automobile. The 2020 Toyota C-HR scored "Good" in crashworthiness and "Superior" in front crash prevention, according to IIHS.
According to CarShtuff, the C-HR has many contemporary safety and technology features.
However, with a 0-60 time of 11.2 seconds, the C-HR is reportedly underpowered, according to MotorBiscuit, which could be improved for 2020 standards.
It is important to note that complaints about the 2018 Toyota C-HR's weak windshield have been no reports of any significant safety concerns, making it the year model to avoid, according to CoPilot.
Reliability of Toyota C-HR
The Toyota C-HR is typically regarded as a dependable car. The models from 2017, 2019, and 2020 are deemed secure to purchase by CoPilot because there have been no reported issues.
The 2020 Toyota C-HR received ratings of "Good" for crashworthiness and "Superior" for front crash prevention from IIHS. The C-HR is outfitted with cutting-edge technology and safety features, according to CarShtuff.
The 2018 Toyota C-HR, on the other hand, is the year model to stay away from due to several outstanding complaints, including a weak windshield and an annoying squeaking noise while traveling.
In addition, the C-HR is underpowered, according to MotorBiscuit, with a 0-60 time of 11.2 seconds, which is slow by 2020 norms.
How to find the best deals on a Toyota C-HR?
Start by searching Toyota's official website for the latest discounts and incentives on the C-HR to find the best offers. Additionally, websites like CoPilotSearch.com and Cars.usnews.com provide details on current C-HR lease offers, prices, and discounts.
It is also worthwhile to consider purchasing a used C-HR since the models from the 2017–2019–2020 model years have no complaints on file and are considered safe to purchase by CoPilot.
However, given several outstanding complaints, it is advised to steer clear of the 2018 year edition.
Nevertheless, the 2018 Toyota C-HR is a good used car to purchase, according to CarShtuff, as it has low mileage and many excellent features.
Tips for maintaining your Toyota C-HR
It is advised to adhere to the manufacturer's suggested maintenance schedule for a Toyota C-HR, which can be found in the owner's manual or on websites like CarEdge.
Oil changes, tire rotations, and brake inspections are part of routine upkeep. To avoid damage and maintain the car's worth, it is also crucial to keep the vehicle clean on the inside and outside.
Additionally, as advised by WheelsJoint, one can clean the Mass Air Flow (MAF) sensor to increase petroleum mileage. Furthermore, search for discounts and incentives on brand-new Toyota C-HRs on the company's website or through the U.S. News Best Price Program to save money on upkeep and repairs.
Lastly, according to CoPilot, purchasing a used Toyota C-HR, like the 2018 model, can result in substantial savings over purchasing a brand-new vehicle.
How Can You Tell Whether Something Is a Lemon?
Purchase a vehicle history report.
There is no better initial step when purchasing a used car than to obtain a car history report. Two well-known services offer this information for little money: Anyone looking to purchase a used car will find the information provided by CarFax and AutoCheck extremely helpful.
The reports let you know the number of past owners, whether or not it had any accidents, how frequently it required maintenance, and the current title.
The final section is among the most crucial since it contains the lemon label, which attests that the car followed the correct legal procedures to be designated as a lemon.
However, in some areas, dealers must inform a customer if the vehicle is a manufacturer buyback, which is a reliable way to determine whether a vehicle has a lemon title. However, it is the responsibility of the buyer to conduct a thorough investigation into the vehicle's history.
Therefore, consumers may need help if they accidentally purchase a secondhand lemon because they must inspect it first.
Owner Background
You can view the owner's history on the vehicle history report, which should indicate whether the manufacturer has purchased the vehicle back.
While owners can claim a car is a lemon in a legal dispute and ask the automaker to buy back the problematic vehicle, that is a guaranteed technique to determine if the car was labeled a lemon.
You can also determine if the vehicle was sold or traded before it was given a lemon tag if the prior owner may have missed an issue. It also implies that the car's persistent issue must be apparent.
Repair Record
Look carefully at the vehicle's repair record and try to identify any recurring issues. Recurring problems in cars with lemon histories are simple to spot. You can determine whether the issues with the car are minor wear and tear concerns, such as those with the clutch or brakes, or a more severe problem.
Check to discover if the repairs were necessary or carried out even when the car was brand new. It can assist in determining whether the car is a lemon or if an incident like a collision or modification caused a misdiagnosed issue.
Are the repairs significant or minor? A severe repair would deal with the drivetrain or suspension, whereas a superficial one would address non-driving-related issues like window or seat controls.
Severe repairs would be more challenging, but handling a car might not be a hassle if a car was considered a lemon for a less severe cause.
The report also shows whether repairs are being made at a dealership or a general shop. Like you would with any used car, examine the vehicle's general condition and health and determine whether routine maintenance has also been carried out.
This will assist you in deciding whether or not you should consider purchasing this car.
Inspection before purchase
Is the car still a good investment? You should get a pre-purchase inspection if the flaws are not too concerning or if you believe the automobile may have been incorrectly labeled as a lemon.
A mechanic can determine whether the problems are repairable and why the car was considered a lemon.
A technician can assist you in determining whether or not a recurring issue is indicative of more severe problems or worries about the quality of the vehicle.
Their satisfaction with the car might help determine if it is a worthwhile investment or a lost cause.
Toyota C-HR FAQ's
What issues does the Toyota C-HR have?
Additionally, owners have expressed their frustration at being left stranded after their car's engine stalled while they were traveling and would not restart. Battery problems: The battery on the C-HR is where most problems occur. When left idle for as little as 4 days, brand-new vehicles with less than 1,000 kilometers on the odometer required a jump start.
When will the Toyota C-HR wear out?
Toyota says that its quirky subcompact SUV will not make a comeback in 2023, and the cool new model will only be available in Europe. After 2022, the Toyota C-HR will no longer be sold in the United States and Canada, the manufacturer told Car and Driver.
Are Toyota C-HR vehicles dependable?
The expected reliability rating for the 2022 Toyota C-HR is 80 out of 100.
Does the Toyota C-HR perform well on lengthy trips?
Long trips are pleasant, and the Excel trim comes equipped with the majority of the equipment you'd want in a family SUV. Although the out-of-date infotainment system is annoying and the expensive urban operating costs raise some concerns, the C-HR is still a very capable crossover despite these issues.
Is the Toyota C-HR an excellent first car?
Is the Toyota C-HR a reliable first vehicle? The Toyota C-HR is a decent option for a first vehicle. It is small, has both manual and automatic transmission options, and doesn't have a lot of engine capacity to cause problems.