Honda Passport Best and Worst Years (Top Picks!)
A versatile family SUV with appropriate power and performance is the Honda Passport.
When it was revived in 2019, it had previously been released for the 1994 through 2002 model years.
Please continue reading to learn about the years that were the best and worst for it.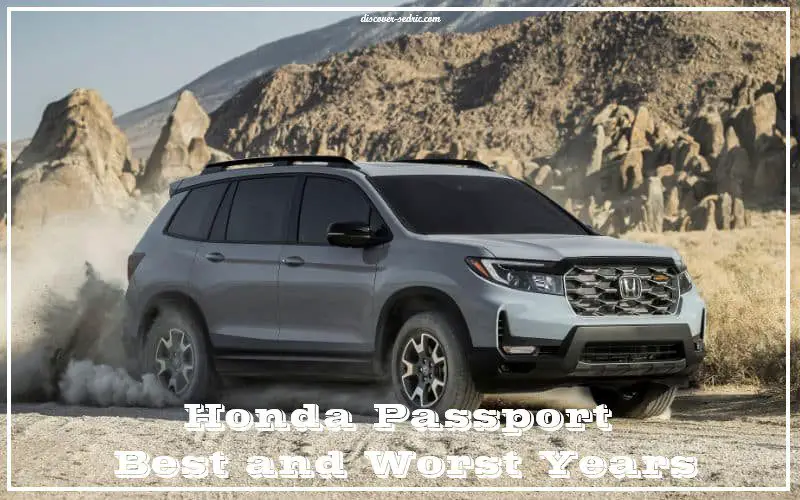 VIDEO: Honda Passport Review
Honda Passport Best and Worst Years
According to several sources, the most significant years for the Honda Passport are 2023, 2022, 2021, 2020, 2002, 1997, and 1996. The performance, dependability, and sophisticated features of these years are well-known. The Honda Passport performed poorest in 2019, 1999, 1998, 2000, and 2001, on the other hand. Consumer complaints have increased throughout this period, and the transmission, engine, and electrical systems have been particularly problematic. It's crucial to remember that a particular Honda Passport's dependability may vary according to its maintenance record, mileage, and other aspects. Before buying, it is advised to study the Honda Passport's dependability. The Honda Passport is a decent SUV with cutting-edge technology and good performance, and it has generally gotten positive reviews from critics over the past year.
What Are The Honda Passport's Best Years?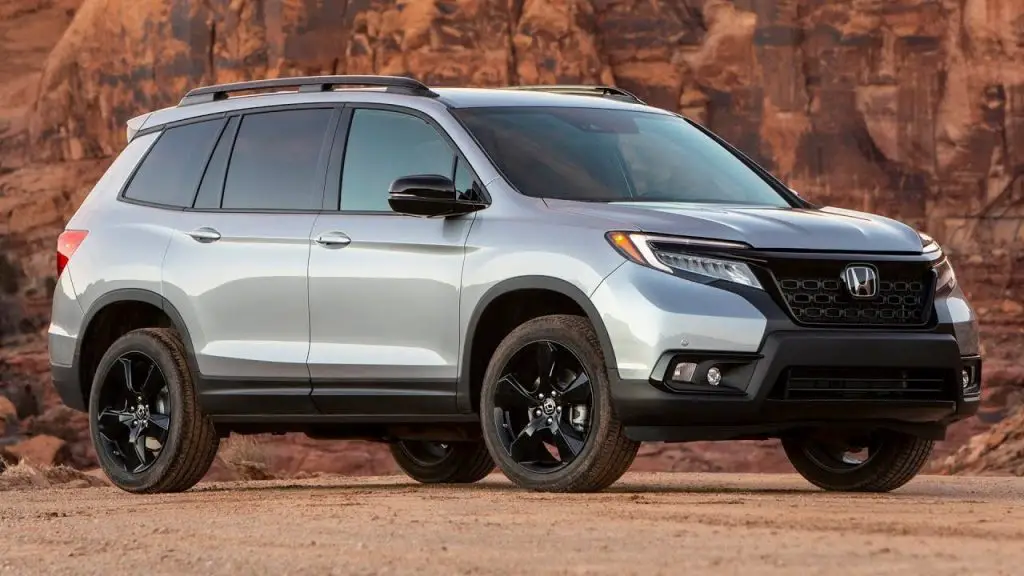 The best Honda Passports are highlighted in the list below. Honda has created many excellent Passports.
2022 Honda Passport and 2023
The 2023 and 2022 Honda Passport models are the most recent and perhaps the best model years because they are the most well-rounded, the least troublesome, the best-looking, and the most cutting-edge tech and safety features.
The 2022 Passport saw a slight facelift, whereas the 2023 Passport largely remained untouched and is now a carryover model. 
The front of the Passport was updated with a chunkier grille and larger dimensions to meet complaints from auto critics that its design lacked personality.
The look is more robust overall, with bolder front and rear bumpers.
With an 18-inch wheel and tire combination, the TrailSport model is an intriguing choice for anyone wanting off-road adventures. 
Both the 2022 and 2023 Honda Passport models can now be ordered with the Honda Performance Development (HDP) appearance package, which gives the SUV a distinctive grille, specially created wheels, an HDP graphic on the rear fenders, and black fender flares, similar to the other models in the same production year. 
Honda Passport for 2023 
Edmunds: 0
4.4 out of 5.0 on Kelley Blue Book
Honda Passport 2022
Edmunds: 4.7 out of 5
4.4 out of 5.0 on Kelley Blue Book
JD Power: 84 out of 100
Honda Passport 2021
The 2021 Honda Passport is attractive if you enjoy exploring the great outdoors and require a good-sized, robust SUV to carry you and your numerous gear items without difficulty.
The 2021 Passport boasts a roomy cabin with comfortable seats, a sizable cargo area, and clever storage compartments like its third-generation siblings.
The Passport underwent a small but helpful change for this model year. 
In place of the former 5-inch touchscreen infotainment system, the lowest versions came with a standard 8-inch touchscreen system. 
Edmunds: 4.4 out of 5
4.4 out of 5.0 on Kelley Blue Book
JD Power: 82 out of 100
Honda Passport 2020
Given that 2019 was the Passport's rebirth year, the 2020 model squeaks by without making any notable updates or adjustments, but we should note that it is a much more trustworthy option.
The 2020 Passport is a highly regarded mid-size SUV boasting a wealth of standard safety systems, a potent V-6 engine, and a roomy interior for passengers and baggage.
Edmunds: 4 out of 5
4.4 out of 5.0 on Kelley Blue Book
JD Power: 82 out of 100
Honda Passport 2002
The more recent Pilot models are advised because they will have less mileage and show less wear and tear. The 2002 Passport, however, is an excellent choice and was far less troublesome than many of its predecessors.
The second generation 2002 Passport has a rugged appearance and a wide back seat and was powered by a 3.2 liter V6.
For this particular model year, there were noteworthy improvements or adjustments.
After this model year, Honda stopped producing. 
Edmunds: 3.6 out of 5
3.9/5.0 on the Kelley Blue Book
N/A JD Power
Honda Passport 1997
The 1997 Passport is an excellent option if you're on a tight budget and like classic SUVs.
Compared to the 1999 and 1998 models, this vehicle was much more dependable and acclaimed for its attractive exterior and powerful engine.
Due to appreciably poor sales, Honda discontinued the 1997 Honda Passport's DX four-cylinder model. 
Edmunds: 3.6 out of 5
3.9/5.0 on the Kelley Blue Book
N/A JD Power
Honda Passport 1996
The 1996 Passport is a vintage icon that combines comfortable highway driving with off-road capabilities.
The Passport was updated for 1996 with new wheels, a dual-airbag system, optional four-wheel disc antilock brakes, and a V6 engine that is more powerful and efficient.
The V6 engine can tow 4,500 pounds, but only 2,000 pounds with the four-cylinder.
Be extremely cautious when purchasing an older vehicle. Having the automobile inspected by a reputable mechanic before parting with your money could be a good idea.
Edmunds: 3.8 out of 5
3.9/5.0 on the Kelley Blue Book
N/A JD Power
What Are The Honda Passport's Worst Years?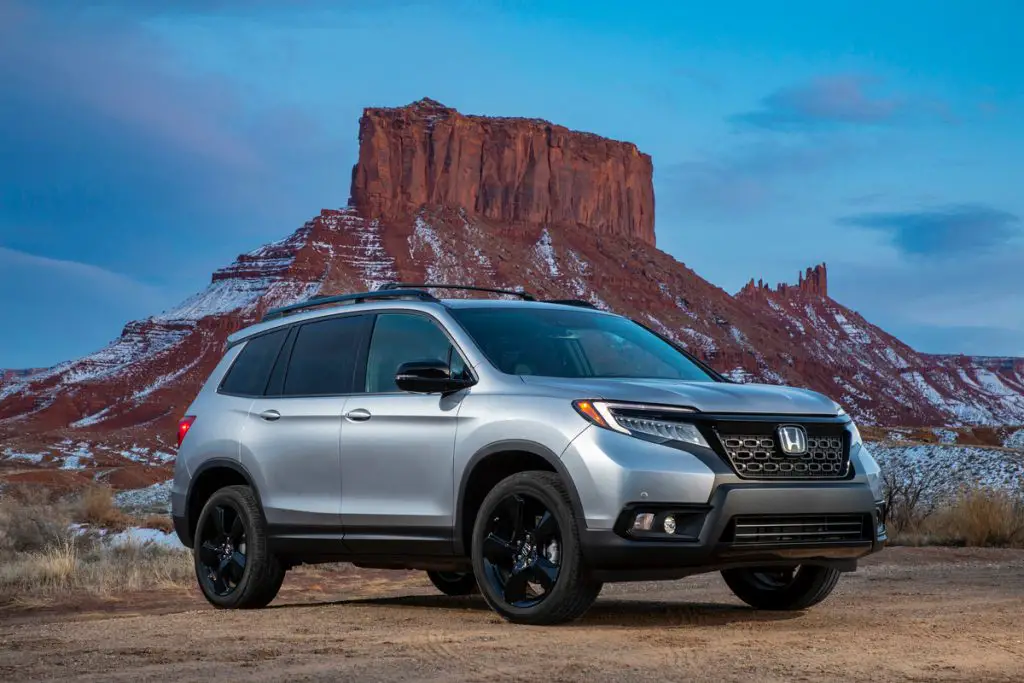 The Honda Passport has experienced its share of issues throughout the years, just like any other car.
The following model years should be used with caution.
Honda Passport for 2019
You should avoid the 2019 Passport if you're considering a third-generation vehicle. The Auto start/stop feature was the subject of most complaints.
Nine issues were with the 2019 Passport on CarComplaints.com and 181 with CarProblemZoo.com.
Honda Passport 2001
Numerous concerns were made about the 2001 Honda Passport's rotting structure and suspension, which finally compromised the vehicle's structural integrity.
The issue was so pervasive. Honda issued a recall even though some owners claimed that the severity of the corrosion prevented their car from being fixed.
Eleven complaints about the 2001 Passport on CarComplaints.com, and 160 issues were reported on CarProblemZoo.com.
Honda Passport 2000
Numerous structural problems plagued the 2000 Honda Passport, most (if not all) of which were caused by early oxidation or rusting. 
Due to serious rust problems, owners experienced suspension systems, engine supports, and car chassis that were virtually irreparable and required costly replacements. 
Total complaints for the 2000 Passport at CarComplaints.com were 9; real problems at CarProblemZoo.com were 125.
Honda Passport 1999
The 1999 Honda Passport experienced several brake-related problems, notably with the ABS or anti-lock braking system, similar to the 1998 model year. 
Honda Passport 1998
According to online sources, the 1998 Honda Passport is by far the most problematic model year of all the Passport vehicles ever made. 
Significant problems existed with the anti-lock braking system in the 1998 Honda Passport.
The ABS was finally recalled, but since there was such a high demand for parts, drivers had to wait an extended period for repairs.
Rust on the frame and suspension had a significant impact on the 1998 Passport as well.
Total complaints for the 1998 Passport were ten at CarComplaints.com and 314 at CarProblemZoo.com.
How Safe Is Honda Passport?
Owners experienced inconsistent performance on uneven surfaces and roadways, long stopping distances (perhaps contributing to auto accidents), rear tire lock-ups, and side-to-side car swinging. 
Additionally, rusting problems afflicted this model year, especially noticeable on the suspension system.
Total complaints for the 1999 Passport were 13 at CarComplaints.com and 289 at CarProblemZoo.com.
Reliability of Honda Passport
The Honda Passport is known for its dependability. The 2022 Honda Passport is anticipated to be more dependable than the typical new car, according to Consumer Reports. Based on owner evaluations, RepairPal gives the Honda Passport a 3.6 out of 5.0.
In addition, the National Highway Traffic Safety Administration (NHTSA) has given the Honda Passport an excellent overall safety rating of five out of five stars. Six airbags, a rear-seat reminder, LED headlights, ABS, EBD, a rearview camera, traction control, and the most recent Honda Sensing® suite, which includes accident-avoidance technologies like lane departure warning and lane-keeping assist system, are just a few of the safety features that come standard on the Honda Passport.
In addition, the 2019 Honda Passport exhibited perfect reliability over its 14-month test period, according to Car & Driver, with no unanticipated breakdowns or tech-related problems.
For families who value dependability and safety above all else, the Honda Passport is a solid SUV with cutting-edge safety features and firm performance.
How to find the best deals on a Honda Passport?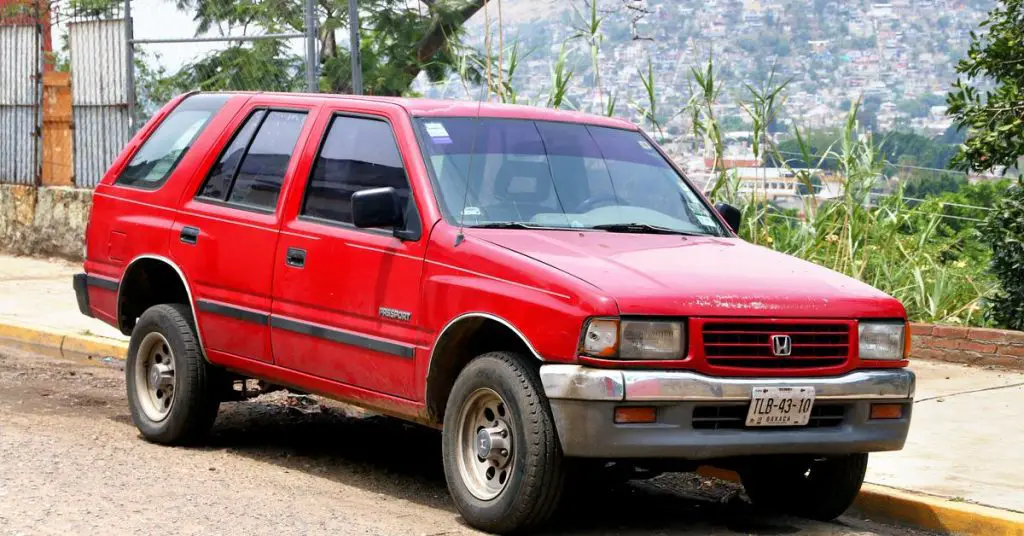 You can start by looking at online vehicle markets like CarGurus, Carfax, TrueCar, and Autotrader to find the most incredible bargains on a Honda Passport. You can use these websites to look up new and used Honda Passports in your neighborhood and compare their pricing at various shops.
To get the best value possible, haggle with dealerships as well. It's crucial to remember that the cost of a Honda Passport might change based on elements like the trim level, location, and mileage. To ensure you're getting a decent deal for your money, it's a good idea to examine the Honda Passport's dependability before purchasing.
The Honda Passport should not be purchased in 1995, 1998, 1999, 2000, or 2001, but there are other trustworthy versions out there5, says Copilotsearch.com. Again, you can discover the best prices on a Honda Passport by doing homework and haggling with dealerships.
Tips for maintaining your Honda Passport
Maintaining your Honda Passport is critical to preserve its dependability and endurance. The 2023 Honda Passport is anticipated to be more dependable than the typical new automobile, according to Consumer Reports.
It's crucial to adhere to the suggested maintenance schedule for your Honda Passport, which calls for frequent oil changes, tire rotations, and brake inspections. For further instructions and advice on maintenance, consult the owner's handbook.
Additionally, you can look for any prospective difficulties' warning signals, such as odd noises or vibrations, and take immediate action to resolve them.
Six airbags, a rear-seat reminder, LED headlights, ABS, EBD, a rearview camera, traction control, and the most recent Honda Sensing® suite, which includes accident-avoidance technologies like lane departure warning and lane-keeping assist system, are just a few of the safety features that come standard on the Honda Passport.
As a result, you can keep your Honda Passport in good shape, assure its dependability, and lengthen its lifespan according to the suggested maintenance schedule and take care of any concerns immediately.
How Can You Tell Whether Something Is a Lemon?
Purchase a vehicle history report.
There is no better initial step when purchasing a used car than to obtain a car history report. Two well-known services offer this information for little money: Anyone looking to purchase a used car will find the information provided by CarFax and AutoCheck extremely helpful.
The reports let you know the number of past owners, whether or not it had any accidents, how frequently it required maintenance, and the current title.
The final section is among the most crucial since it contains the lemon label, which attests that the car followed the correct legal procedures to be designated as a lemon.
However, in some areas, dealers must inform a customer if the vehicle is a manufacturer buyback, which is a reliable way to determine whether a vehicle has a lemon title. However, it is the responsibility of the buyer to conduct a thorough investigation into the vehicle's history.
Therefore, consumers may need help if they accidentally purchase a secondhand lemon because they must inspect it first.
Owner Background
You can view the owner's history on the vehicle history report, which should indicate whether the manufacturer has purchased the vehicle back. While owners can claim a car is a lemon in a legal dispute and ask the automaker to buy back the problematic vehicle, that is a guaranteed technique to determine if the car was labeled a lemon.
You can also determine if the vehicle was sold or traded before it was given a lemon tag if the prior owner may have missed an issue. It also implies that the car's persistent issue must be apparent.
Repair Record
Look carefully at the vehicle's repair record and try to identify any recurring issues. Recurring problems in cars with lemon histories are simple to spot. You can determine whether the issues with the car are minor wear and tear concerns, such as those with the clutch or brakes, or a more severe problem.
Check to discover if the repairs were necessary or carried out even when the car was brand new. It can assist in determining whether the car is a lemon or if an incident like a collision or modification caused a misdiagnosed issue.
Are the repairs significant or minor? A severe repair would deal with the drivetrain or suspension, whereas a superficial one would address non-driving-related issues like window or seat controls.
Severe repairs would be more challenging, but handling a car might not be a hassle if a car was considered a lemon for a less severe cause.
The report also shows whether repairs are being made at a dealership or a general shop. Like you would with any used car, examine the vehicle's general condition and health and determine whether routine maintenance has also been carried out.
This will assist you in deciding whether or not you should consider purchasing this car.
Inspection before purchase
Is the car still a good investment? You should get a pre-purchase inspection if the flaws are not too concerning or if you believe the automobile may have been incorrectly labeled as a lemon.
A mechanic can determine whether the problems are repairable and why the car was considered a lemon.
A technician can assist you in determining whether or not a recurring issue is indicative of more severe problems or worries about the quality of the vehicle.
Their satisfaction with the car might help determine if it is a worthwhile investment or a lost cause.
Honda Passport FAQ's
Which Honda Passport model is the best?
Since it is inexpensive and has desirable extras like leather upholstery, a sunroof, and a large touchscreen with smartphone mirroring capability, the Passport EX-L is our choice for the greatest bargain. Another benefit of choosing the base EX-L in 2023 is the addition of all-wheel drive as standard equipment.
What drawbacks are there to the Honda Passport?
The engine, drivetrain, frame, suspension, and other components are some of the most frequently encountered Honda Passport issues. There are different suspension-related NHTSA complaints. A corroded suspension component, according to one driver, caused the sport utility vehicle to start to sway on the highway.
Honda Passports are reliable, right?
The 2023 Honda Passport has an 83 out of 100 expected reliability rating.
What is the Honda Passport's oldest year?
1994
As Honda's initial foray into the expanding US SUV market of the 1990s, it was unveiled in 1993 for the 1994 model year.
The Honda Passport is comparable to what Toyota?
When compared to the non-hybrid Toyota Highlander XLE, the 2023 Honda Passport is the more potent choice despite being smaller. With a 3.5-liter V-6 engine that can generate up to 280 horsepower, the Honda Passport can respond to green lights more quickly.