Toyota Highlander Best and Worst Years (Top Picks!)
A stylish mid-size SUV, the Toyota Highlander made its premiere in 2001.
It has a lot of standard functions and is both practical and comfortable.
This piece will examine the Toyota Highlander best and worst years in more detail.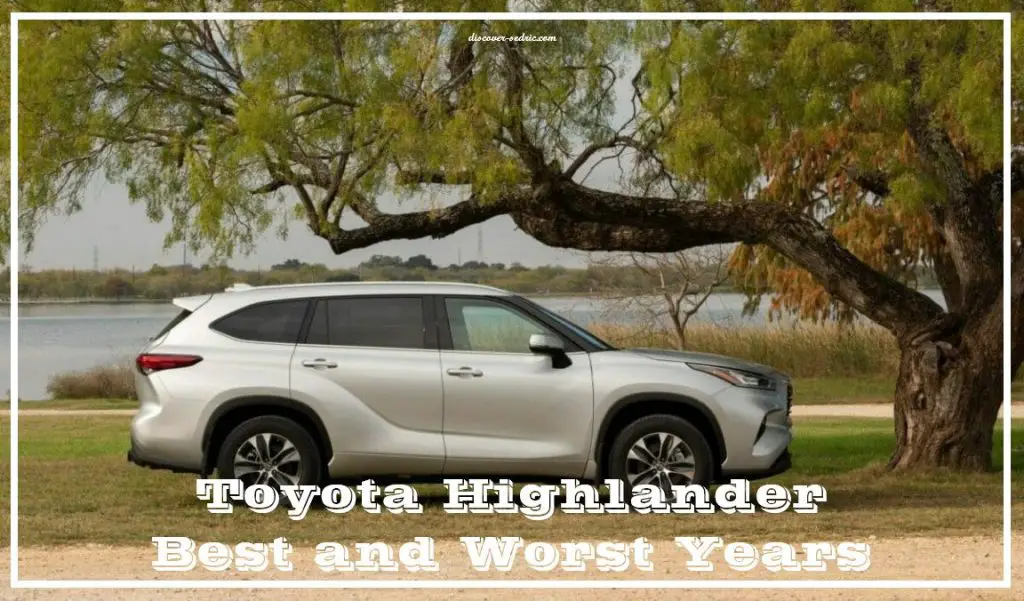 VIDEO: Toyota Highlander: Toyota's Worst Car
Toyota Highlander Best and Worst Years
The Toyota Highlander's worst years are reportedly 2003, 2005, 2008, 2014, and 2015, while its finest years are reportedly 2001, 2017, 2018, 2019, and 2020. Several variables, including user reviews and professional judgment, determine these scores. According to Nerdycar, the first-generation Toyota Highlander, built between 2001 and 2005, had problems with heated engines and coolant leakage. It's crucial to remember that the Highlander has been in continuous production since 2001 and that the list of problematic years needs to be revised. It is advised to research particular model years before buying a used Toyota Highlander to avoid the years with the worst issues.
What Are The Toyota Highlander's Best Years?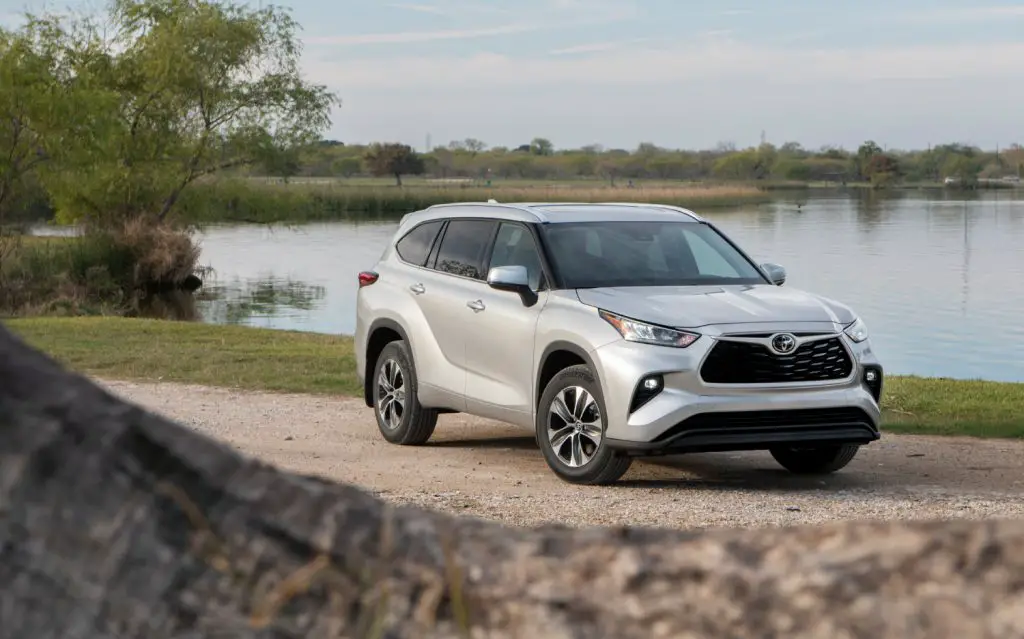 The top choices when looking for a Highlander are listed below.
Toyota Highlander 2022
The 2022 Highlander is a feature-rich choice with the newest infotainment and driver-assistance technology. The IIHS Top Safety Pick+ Award was also given to it.
A Hybrid Bronze Edition model with Cement or Wind Chill Pearl body colors, a fashionable pair of 18-inch bronze-colored alloy wheels, and a distinctive interior layout was released for 2022.
The most significant modifications for this year were the height-adjustable power seats for the front passenger, which were standard on XLE trims and higher.
Edmunds: 4.4 out of 5
4.3/5.0 on the Kelley Blue Book
J.D. Power: 82 out of 100
Toyota Highlander 2021
The 2020 4th Gen, which includes the 2021 Highlander, offers excellent dependability and resale value.
A new, aggressive-looking XSE version with 20-inch alloy wheels, dark exterior accents, and a sportier suspension was introduced for 2021.
LED projector headlights and other driver-aid technology, like semi-automated emergency steering, are included as standard equipment across the lineup.
Edmunds: 3.7 out of 5
4.3/5.0 on the Kelley Blue Book
J.D. Power: 82 out of 100
Toyota Highlander 2020
For 2020, Toyota completely redesigned and improved the Highlander, giving it a new look, better features, more interior room, and the newest safety and infotainment technology.
It has a powerful 3.5-liter V-6 engine with 295 horsepower and an eight-speed automatic gearbox. Front-wheel drive or all-wheel drive is available.
Additionally, it receives high points for its superior comfort, above-average fuel efficiency, and safety.
Edmunds: 3.8 out of 5
4.3/5.0 on the Kelley Blue Book
J.D. Power: 82 out of 100
Toyota Highlander 2016
For families looking for a three-row crossover, the 2016 Highlander is a top choice thanks to its comfortable ride, elegant interior, and high dependability.
Despite being one of the third Generation's most miniature problematic models, significant upgrades were only made for 2016.
A standard towing package is one of the minor upgrades for all V6 versions.
Edmunds: 4.3 out of 5
4.4 out of 5.0 on Kelley Blue Book
83 of 100 for J.D. Power
Toyota Highlander 2014
The 2014 Highlander, the first model of the third Generation, was completely redesigned inside and out and offered a variety of trim levels and powertrain choices.
Highlights included:
An improved interior.
An eight-seat option.
A height-adjustable power liftgate.
An automatic six-speed transmission for versions with the V6 engine.
It also had many brand-new features, like Driver Easy Speak, which amplifies the driver's speech through the back speakers using the vehicle's built-in microphone.
Edmunds: 4.4 out of 5
4.4 out of 5.0 on Kelley Blue Book
J.D. Power rating: 81/100
Toyota Highlanders from 2012 and 2011.
The 2012 and 2011 models of the 2nd Generation Highlander, which are identical, are the most dependable versions available.
An exterior redesign and new standard features were part of the Highlander's minor refresh for 2011.
The base and S.E. trims included a third-row bench that could be folded in half and back climate controls.
For 2011, the Sport option was discontinued.
Highlander (2012)
Edmunds: 4.5 out of 5
4.6 out of 5.0 on Kelley Blue Book
J.D. Power: 84 out of 100
Highlander (2011)
Edmunds: 4.61 out of 5
4.6 out of 5.0 on Kelley Blue Book
J.D. Power: 82 out of 100
Toyota Highlander 2009
The 2009 Highlander is another excellent option because it is powerful yet fuel-efficient for a vehicle of its dimensions.
The 2009 Highlander is perfect for family use and was given the IIHS "Top Safety Pick" designation.
Although a new 2.7-liter four-cylinder engine was added to the base two-wheel drive trim, there were few modifications for this model year.
Edmunds: 4.61 out of 5
4.6 out of 5.0 on Kelley Blue Book
J.D. Power: 85 out of 100
Toyota Highlander 2007
The 2007 Highlander is yet another extremely dependable choice that is too big and too small.
The second bench's front-seat side airbags and side curtain airbags were standard equipment for 2007.
Additionally, the headlights were updated, and the Sport trim was added to the range.
Edmunds: 4.4 out of 5
4.7 out of 5.0 on Kelley Blue Book
J.D. Power: 84 out of 100
Toyota Highlander 2001
Based on the same chassis as the Lexus RX300, the 2001 Highlander provided car-like handling and exceptional dependability.
It has an energetic V6 engine and a choice of front- or all-wheel drive for the automatic gearbox.
Although if you are on a limited budget, this big Camry wagon is a good option, we would advise choosing something other than a car this old.
Edmunds: 4.7 out of 5
4.7 out of 5.0 on Kelley Blue Book
N/A JD Power
Are Toyota Highlander Models Considered Reliable According to the Complete Guide?
When it comes to reliability, Toyota Highlander models have consistently ranked among the most trusted toyota vehicles. According to the complete guide, these models have proven to be dependable and long-lasting, making them a popular choice among consumers looking for a reliable SUV.
What Are The Toyota Highlander's Worst Years?
Despite being one of the most popular SUVs, the Highlander has had more issues in some model years than others.
2019 Toyota Highlander
Power loss and stalling while traveling in the 2019 Highlander have drawn numerous complaints, and a faulty fuel pump frequently caused these incidents.
Due to fuel pump issues, Toyota was compelled to recall the 2019 Highlander twice.
2015 Toyota Highlander
Owners of the 2015 Highlander frequently express their dissatisfaction with the chairs as one of their main grievances.
According to one owner, they were the most uncomfortable chairs they had ever sat in.
Another widely documented issue was that the sunroof suddenly broke, terrifying the passengers to death.
Owners describe glass exploding above their heads as coming after a deafening bang.
Fundamental issues for the 2015 Highlander were 83 at CarComplaints.com and 194 at CarProblemZoo.com.
Common issues:
Incredibly uncomfortable chairs
Unacceptable wind sounds
Roof explosion
Frequently change audio system settings
2010 Toyota Highlander
Numerous electrical-related concerns about the 2010 Highlander were received.
The most frequent one was caused by its door-ajar light and chime, which drivers found incredibly grating and disturbing.
Many owners also experienced issues with the hydraulic liftgate, which would not operate as required when powered by electricity or manually.
Another frequent owner complaint was the driver's side visor dropping to obstruct the driver's vision.
At CarComplaints.com, the 2010 Highlander received 54 reports, while CarProblemZoo.com recorded 248 issues.
Common issues:
A malfunctioning lift barrier
Door accidentally shuts
A chiming noise repeatedly activates
door latches that aren't working
2008 Toyota Highlander
If there's one model on this list you should avoid, it's the 2008 Highlander, the first year of the 2nd Generation. It has amassed more complaints than any other Highlander by some margin.
Most of the complaints were engine-related, and owners experienced several issues.
The most reported, however, was low oil pressure due to oil cooler line failure, which could lead to blown and seized engines.
There were also a large number of complaints for malfunctioning brakes due to the failure of the brake actuator assembly.
The 2008 Highlander had 77 complaints at CarComplaints.com and 461 problems at CarProblemZoo.com.
Common issues:
Engine knocking
Rattling noise on the engine start-up
The engine refuses to start
The CD player is not working properly
2006 Toyota Highlander
The 2006 Highlander received a large number of complaints due to brake failure.
There were also several complaints on the NHTSA website regarding the vehicle suddenly accelerating.
The 2006 Highlander had 17 complaints at CarComplaints.com and 319 problems at CarProblemZoo.com.
Common problems:
Loose engine bolts
Engine knocking
Transmission failure
2005 Toyota Highlander
The 2005 Highlander had a lot of transmission issues, with owners reporting shift delays and hesitation. The 2005 Highlander had 34 complaints at CarComplaints.com and 275 problems at CarProblemZoo.com.
Common problems:
Shuddering while accelerating
Fluid leak
Soft brake pedal
2004 Toyota Highlander
The 2004 Highlander shares many of the same problems as the 2005 model. Several owners reported that their vehicles accelerated rapidly without warning.
The 2004 Highlander had 36 complaints at CarComplaints.com and 330 problems at CarProblemZoo.com.
Common problems:
Stripped engine treads and bolts
Stripped engine head bolts
Heater control is erratic
Transmission shift delay
2003 Toyota Highlander
The most commonly reported problems for the 2003 Highlander are engine related.
Owners reported that the cylinder head bolts separated from the lower engine block causing a significant coolant leak.
A blown head gasket often accompanied this.
In many instances, owners were forced to replace the engine.
The 2003 Highlander had 61 complaints at CarComplaints.com and 309 problems at CarProblemZoo.com.
Common problems:
Threads for engine bolts stripped
Engine failure
Subframe rusted
2002 Toyota Highlander
The 2002 Highlander had some complaints because of engine overheating and coolant leaks caused by engine bolt stripping. This was a widespread issue.
The 2002 Highlander had 38 complaints at CarComplaints.com and 336 problems at CarProblemZoo.com.
Common problems:
Engine failure
Excessive oil usage
Leak through the back hatch
How Safe Is Toyota Highlander?
The Toyota Highlander is typically regarded as a secure automobile. According to VehicleHistory, the 2020 Toyota Highlander SuperCrew earned the highest "Good" rating from the IIHS and a 5-Star Overall Safety Rating from the NHTSA.
In addition, the 2022 and 2021 Toyota Highlander received "Superior" ratings from the IIHS for collision avoidance and mitigation and "Good" ratings for crashworthiness.
However, it is crucial to keep in mind that, per CoPilotSearch, some model years, including 2003, 2008, 2014, and 2015, have been designated as the years to avoid due to severe issues.
Therefore, before buying a used Toyota Highlander, it is advised to study particular model years.
The Toyota Highlander is a safe car overall, but it's essential to be aware of any possible problems with particular model years.
Reliability of Toyota Highlander
The Toyota Highlander is typically regarded as a dependable car. It received a 4.0 out of 5.0 grade from RepairPal, placing it seventh out of 26 SUVs, and its average annual repair cost is only $489, less expensive than the average repair cost of $573, as reported by CarParts.
Despite one Toyota recall, the Highlander also earned a "great" rating from J.D. Power and is praised for its dependability by Consumer Reports, according to MotorBiscuit.
According to VehicleHistory, the 2020 Toyota Highlander SuperCrew earned the highest "Good" rating from the IIHS and a 5-Star Overall Safety Rating from the NHTSA. Nerdycar notes that some model years, like 2003-2005, have been designated years to stay away from because of problems with heated motors and coolant leakage.
Overall, the Toyota Highlander is a dependable and secure vehicle, but it's crucial to study particular model years before purchasing.
How to find the best deals on a Toyota Highlander?
Discover the best deals by looking for discounts and incentives on brand-new Toyota Highlanders on Toyota's official website.
To find the best deal, it is also advised to browse around and compare prices from various dealerships and private sellers. To ensure the vehicle is a wise investment and won't need pricey repairs down the road, one can also look into the reliability of the Highlander and particular model years, advises CarParts.
The Highlander's fuel economy and total ownership cost should also be considered.
According to RepairPal, the Highlander gets 24 mpg in the SUV category and has an average yearly repair cost of $489.
Finally, it is advised to haggle with the dealer to get the best available price and financing terms.
Tips for maintaining your Toyota Highlander
A Toyota Highlander must be maintained regularly to maintain its dependability and durability. For Toyota Highlander maintenance, consider the following:
1. Adhere to the manufacturer's suggested maintenance plan, which, according to Marietta Toyota, calls for regular oil changes, tire rotations, and brake inspections.
2. Regularly check the tire pressure and maintain proper inflation to increase fuel efficiency and lengthen tire life.
3. To avoid rust and other damage, keep the vehicle clean both inside and out.
4. According to CarParts, take care of any problems or repairs immediately to avoid more harm and pricey future repairs.
5. When replacing or repairing components, use high-quality materials and fluids.
6. Steer clear of overloading the vehicle to prevent needless damage to the suspension and engine.
7. Drive the car carefully and steer clear of aggressive driving, which can wear out the tires, brakes, and other parts of the vehicle prematurely.
Owners can help ensure their Toyota Highlander stays dependable and in good shape for years by adhering to these recommendations. Furthermore, according to EnginePatrol, the Toyota Highlander has meager yearly repair costs, coming in at just $489 on average.
How Can You Tell Whether Something Is a Lemon?
Purchase a vehicle history report.
There is no better initial step when purchasing a used car than to obtain a car history report. Two well-known services offer this information for little money: Anyone looking to purchase a used car will find the information provided by CarFax and AutoCheck extremely helpful.
The reports let you know the number of past owners, whether or not it had any accidents, how frequently it required maintenance, and the current title.
The final section is among the most crucial since it contains the lemon label, which attests that the car followed the correct legal procedures to be designated as a lemon.
However, in some areas, dealers must inform a customer if the vehicle is a manufacturer buyback, which is a reliable way to determine whether a vehicle has a lemon title.
However, it is the responsibility of the buyer to conduct a thorough investigation into the vehicle's history.
Therefore, consumers may need help if they accidentally purchase a secondhand lemon because they must inspect it first.
Owner Background
You can view the owner's history on the vehicle history report, which should indicate whether the manufacturer has purchased the vehicle back.
While owners can claim a car is a lemon in a legal dispute and ask the automaker to buy back the problematic vehicle, that is a guaranteed technique to determine if the car was labeled a lemon.
You can also determine if the vehicle was sold or traded before it was given a lemon tag if the prior owner may have missed an issue. It also implies that the car's persistent issue must be apparent.
Repair Record
Look carefully at the vehicle's repair record and try to identify any recurring issues. Recurring problems in cars with lemon histories are simple to spot. You can determine whether the issues with the car are minor wear and tear concerns, such as those with the clutch or brakes, or a more severe problem.
Check to discover if the repairs were necessary or carried out even when the car was brand new. It can assist in determining whether the car is a lemon or if an incident like a collision or modification caused a misdiagnosed issue.
Are the repairs significant or minor? A severe repair would deal with the drivetrain or suspension, whereas a superficial one would address non-driving-related issues like window or seat controls.
Severe repairs would be more challenging, but handling a car might not be a hassle if a car was considered a lemon for a less severe cause.
The report also shows whether repairs are being made at a dealership or a general shop. Like you would with any used car, examine the vehicle's general condition and health and determine whether routine maintenance has also been carried out.
This will assist you in deciding whether or not you should consider purchasing this car.
Inspection before purchase
Is the car still a good investment? You should get a pre-purchase inspection if the flaws are not too concerning or if you believe the automobile may have been incorrectly labeled as a lemon.
A mechanic can determine whether the problems are repairable and why the car was considered a lemon.
A technician can assist you in determining whether or not a recurring issue is indicative of more severe problems or worries about the quality of the vehicle.
Their satisfaction with the car might help determine if it is a worthwhile investment or a lost cause.
Toyota Highlander FAQ's
What year would be ideal for a pre-owned Highlander?
Consumer Reports (CR) found that the first-generation Highlander was more spacious and less costly than Lexus RX, its luxury rival. Among the seven SUVs from this series, CR suggests the 2003, 2004, 2005, and 2007 Highlander model years.
What year should a Toyota Highlander be avoided?
Models of the Highlander from 2001 to 2007 frequently experience motor overheating. Owners who have experienced motor overheating have reported that a blown head gasket is to blame.
Which model year of the Toyota Highlander is the most reliable?
Because of its reputation for dependability, it can be challenging to select the top used Toyota Highlander SUV models. The Toyota Highlander's finest model years to look for are 2020 and 2004. If at all possible, try to steer clear of this sport utility vehicle's 2019 model year.
Which Toyota Highlander generation is the best?
Best Display: The 2019 Highlander Hybrid Limited is responsive and economical with fuel. The 2019 Hybrid Limited Platinum is the one for you if you want to experience the finest features a third-generation Highlander has to offer.
Toyota Highlander or Honda Pilot: which is more dependable?
Toyota Highlander vs. Honda Pilot Quality Comparison. Honda Pilot's overall quality score on iSeeCars is 8.7 out of 10, while Toyota Highlander's quality score is 8.9. As a consequence, the Toyota Highlander is ranked number one out of 25 best midsize SUVs, while the Honda Pilot is ranked number two.