Audi A4 Best and Worst Years (Quick Facts!)
The Audi A4, now in its fifth generation, was built at factories worldwide, primarily in Germany, and it was based on the VW Group B Platform.
It has convertible versions and comes in sedan and station wagon body styles.
It is a terrific idea to check out all the various models you can get your hands on because every year is different and includes a brand-new Audi A4.
Yet, this could be tiresome. So, to help you search for the ideal Audi A4, I'll review all the most significant and worst years for the Audi A4.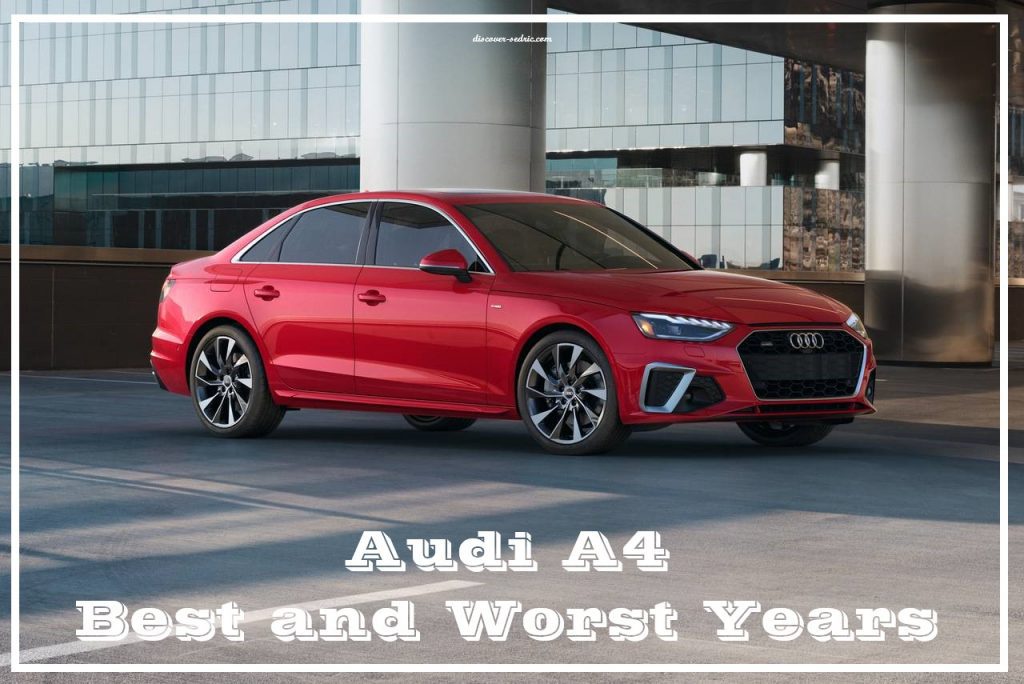 Are you an Audi Fan? Maybe you like this article: reliable Audi cars
VIDEO: Used Audi A4? Check These 5 Possible Trouble Areas
Audi A4 Best and Worst Years
According to Consumer Reports, the Audi A4's worst model years are 2008, 2009, 2010, 2011, and 2013, while its best model years are 2015, 2018, 2019, 2020, and 2021. If you are considering the Audi A4, 2011 and 2014 are the years to steer clear of as they have the most complaints overall.
What Are The Audi A4's Worst Years? Years you should avoid
This section of the post will discuss all the Audi A4 models you should steer clear of because of their different problems and the volume of complaints consumers have made about them.
2009 Audi A4
When you think of German innovation, you see sturdy, fully functional machines that never fail.
You won't remember the 2009 Audi A4's engine, which had numerous problems to the point where the NHTSA and the car's designers received hundreds of complaints about it.
I have to put the 2009 Audi A4 at the top of this list because of a significant issue that is readily available at this frequency and on a component like this, which is highly worrying.
The car has other problems, but they are highly infrequent. The most significant problem primarily affecting the engine is excessive oil consumption.
Users would frequently run out of oil and incur high replenishment costs. Failure of the timing chain also did not help.
Also, some users reported that their turbo would malfunction, a severe letdown given that it is a crucial selling point.
2011 Audi A4
The 2011 Audi A4 had many engine-related problems with the 2009 model but improved upon them in specific ways.
Even though there were fewer engine issues overall, they were more diverse, which might be excellent or negative, depending on your perspective.
You would be completely mistaken if you believed that things would slow down two years later. I ranked the model second on my list because they were less prevalent.
Regarding the 2011 Audi A4, excessive oil consumption remained at the top.
The owners also claimed that the vehicle lost power when in motion, which is unfortunate given that the turbo's problems had finally been fixed.
Timing chain and intake manifold failure were two additional problems. Finally, as if that weren't enough, there was a potential that the fuel injectors would also malfunction.
2013 Audi A4
The engine of the 2013 Audi A4 was also having issues. Unfortunately, the engine problems had been ongoing for at least five years, and it appeared they would last for at least another several years.
The 2013 Audi A4 had troubles with the engine and the steering while the faults were being slowly fixed. This is the reason I decided to rank it third.
As expected, the engine consumed more daily oil than the user could afford.
Unfortunately, the same problem also resulted in a complete engine failure this year.
In addition to spending thousands on oil, you would eventually need to rebuild the engine.
Many grumbled about how stiff the power steering became when it came to steering.
2008 Audi A4
I've been talking about engine issues as if they only existed in the 2009 model up to this point. Regrettably, engine-related problems with the Audi A4 date back to 2008.
I'll talk about that specific model soon, but for now, let's talk about the 2008 Audi A4, which I ranked fourth due to concerns with its engine and, this time, airbags.
In case you missed it, I'll repeat it again: high oil use. The Audi A4 needs more oil constantly to function correctly.
This model's inclusion in the Takata recall, brought on by defective airbags that either did not function or would explode outright, only worsened matters.
2006 Audi A4
The 2006 Audi A4 is the last vehicle on this list. However, I will speak about it last due to this model's numerous minor but frequently voiced faults.
As to be expected, there were also airbag, illumination, and fuel-related concerns this time around in addition to engine problems.
As much of this was harmless, I chose to talk about this model in the fifth position.
Like the 2008 model, this year's model was included in the Takata recall because the airbags occasionally failed to inflate.
The lights would flicker on and off, and there were different problems with the fuel pumps. The most hazardous problem with this model is this one.
The last one is the riskiest since the engine frequently quits functioning. Time chain problems also existed in this situation.
Check these other Audi cars: Audi A6 Best and Worst Years (Quick Facts!) and Audi A7 Best and Worst Years (Quick Facts!)
What Are The Audi A4's Best Years? which years to purchase
In this section of the essay, I'll review every Audi A4 model you should be looking for because they're the best the lineup offers and have little to no problems.
2019 Audi A4
The 2019 Audi A4 is the lineup at its best as it enters the year with a variety of standard amenities, good acceleration, and power to spare.
I rank it first on my list because it provides both tremendous power and comfort.
The fact that the automobile has no component-related problems, despite having a few unfavorable characteristics, is another critical factor in making this car available in the first place.
The car handles rather well but has solid brakes and plenty of room in the front seats, making driving and riding in very comfortable.
Also, the back seats accommodate adults, allowing you to enjoy a fun drive with your pals.
The high-performance S4, which was only offered as a sedan and was packed with high-end equipment, was the standout of the four trims introduced to the market this year.
2018 Audi A4
I should also discuss a model that performs well in its base model since the previous model was more focused on a high-performance variant.
The base model is a strong second-place contender because it offers many features and power.
Thus, I should analyze the 2018 Audi A4, which not only served as the model's inspiration for the 2019 version but also fits the discussion's theme.
The handling is not as good as the previous model's, but it makes up for this with a ton of explosive acceleration.
There were nine distinct trims offered in this particular year.
The base model stood out because it included acceleration, heated front seats, and collision avoidance technologies.
A performance version of the year was also available for those who desired even more oomph.
2020 Audi A4
The 2020 model, which has six distinct trims, strives to improve on the 2019 model but needs to catch up to the standards.
Although it can rival luxury, it had few changes, making it a considerable investment. For this reason, I rank it third on this list.
It would have been placed first without a problem if it had gone the extra mile. The 2020 Audi A4 is ideal for you if you're looking for a high-end sports sedan.
The most significant changes this year were a new inside screen and media system and a few new trims that exuded elegance.
Be aware of this car's character, though; its quick acceleration can reach enormous speeds.
If you enjoy luxury and speed, this car is intended for you.
2015 Audi A4
The main feature that distinguished the 2015 Audi A4 was that its base model has a glass sunroof.
Even though more might be needed to sell many, it is still great.
It is difficult to believe that a car of this caliber was introduced in 2015 because the complete model has many excellent design features and components.
In light of everything, this model is an excellent choice for fourth place.
As I previously stated, this car's interior is excellent, even at the basic trim level. The fit, finish, and material quality improves the car's comfort and opulence.
The automobile also goes very quickly with its powerful turbo engine and accurate steering feedback. All of this could aid in achieving 220 horsepower at ridiculous speeds.
1998 Audi A4
Stay calm if you are searching for a vintage model; this post has you covered.
I made the choice to select an older model in the final position since it can compete favorably with newer ones in terms of quality, luxury, and power.
A vehicle enthusiast's fantasy comes true with the 1998 Audi A4, which is compact, opulent, and offered in 6 trim levels.
Being a smaller vehicle, it can be a good idea to purchase it as a station wagon, but you should consider it a daily driver, particularly in the city.
It can have a lot of cargo room and gives a lot of maneuverability.
The vehicle can also generate 190 horsepower, giving you plenty of speed.
A4 Audi reliability?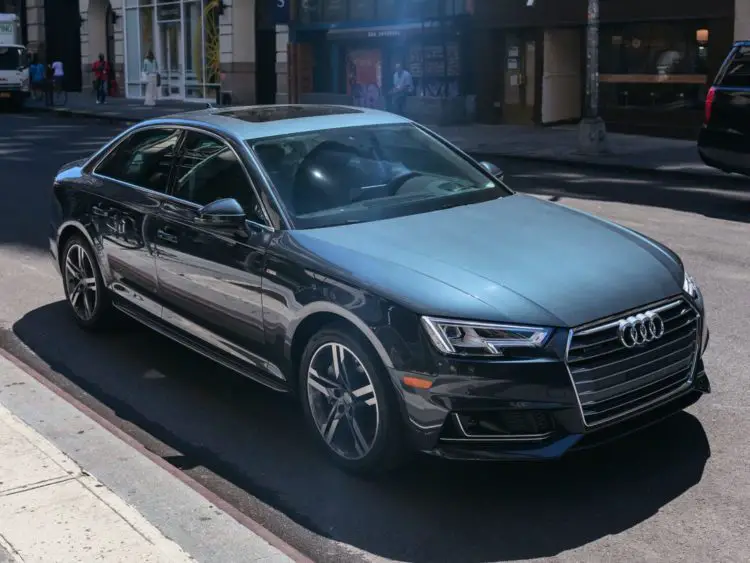 Problems affect around 20% of Audi automobiles within the first year.
It is clear from this justification alone that the Audi A4 might not be as dependable a vehicle as many belief.
Even if it is opulent and quick, you might not want it if you're looking for a car to use daily.
Audi A4: How Long Does It Last?
Your Audi A4 should endure 300,000 miles over 16 years with proper maintenance and security. It should be at least well over 200,000 miles on average.
Continue reading the article below to learn how to prolong the life of your Audi A4.
How to Increase the Lifespan of Your Audi A4
If you want to ensure that your Audi A4 lasts a very long period, you should adopt the following 5 habits:
Use premium fuel.
Maintain your vehicle frequently.
Maintain proper fluid levels in the automobile.
Replace using high-quality spare components.
Resolving issues as soon as they arise.
Your Audi A4's performance and longevity should improve once you put all these strategies into practice.
Factors That Reduce Your Audi A4's Lifespan
Here are 5 behaviors that are gradually shortening the lifespan of your Audi A4:
Driving off-road.
Brutal braking
driving with no fuel.
Not washing the vehicle.
Driving with faulty tire alignment.
The performance and lifespan of your Audi A4 will improve after you stop these bad practices.
The Top 3 Audi A4 Issues You Need to Know
I have covered the different problems with the Audi A4 in great detail.
In this article section, I'll discuss the most typical problem to help you better grasp what you're up against.
Chain Timing Failure
The timing chain is what ensures that each part of the car is operating as it should.
Although it is an essential engine component, many models have experienced timing chain problems because, as mentioned in the essay, the engine has taken the brunt of the problems.
Recall of Takata
The Audi A4 was among the several models and brands in the extensive Takata recall. Due to faulty airbags, numerous vehicles had to be recalled.
Either they wouldn't function, or they might blow up and shoot metal shards in the direction of the users.
Engine trouble
The biggest problem a car owner can have is engine failure; tragically, this happened frequently with the Audi A4.
There is little you can do about an engine failure in your car other than buy a new one.
If you choose a subpar model, you will almost certainly have to do this costly process.
How Safe is an Audi A4?
The NHTSA awarded the 2022 Audi A4 a five-star overall rating, while the IIHS designated it a Top Safety Pick. The vehicle also received high marks for safety. In the IIHS's vehicle-to-vehicle tests, it's front accident prevention system scored high marks.
As a result, it also received a 5-star overall rating for crash prevention from the NHTSA.
How Can You Tell Whether Something Is a Lemon?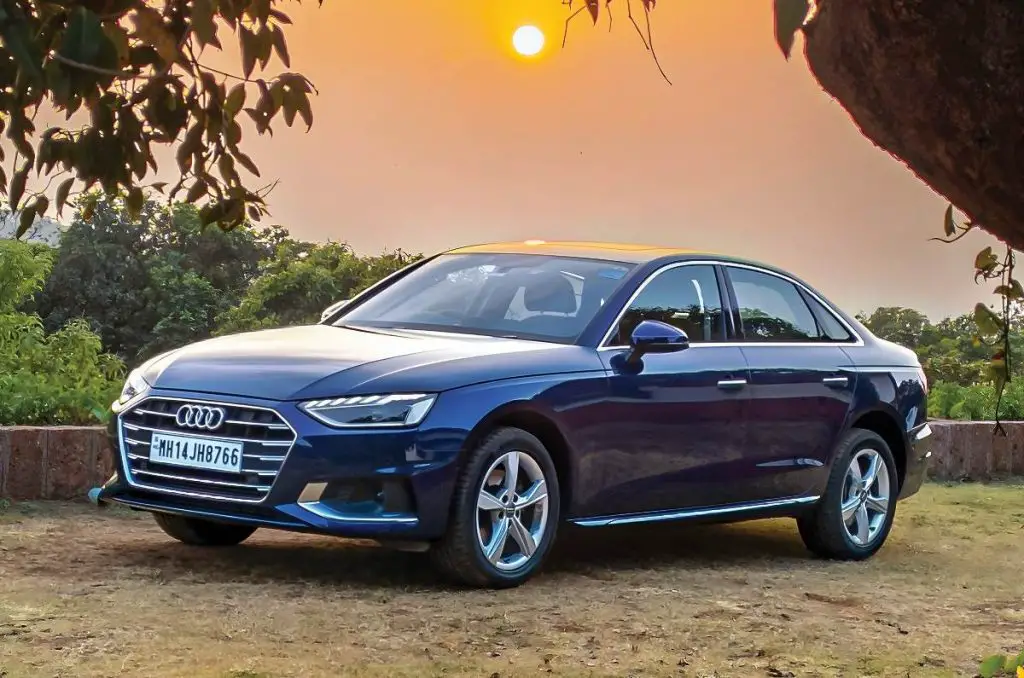 Purchase a vehicle history report.
There is no better initial step when purchasing a used car than to obtain a car history report. Two well-known services offer this information for little money: Anyone looking to purchase a used car will find the information provided by CarFax and AutoCheck extremely helpful.
The reports let you know the number of past owners, whether or not it had any accidents, how frequently it required maintenance, and the current title.
The final section is among the most crucial since it contains the lemon label, which attests that the car followed the correct legal procedures to be designated as a lemon.
However, in some areas, dealers must inform a customer if the vehicle is a manufacturer buyback, which is a reliable way to determine whether a vehicle has a lemon title. However, it is the responsibility of the buyer to conduct a thorough investigation into the vehicle's history. Therefore, consumers may need help if they accidentally purchase a secondhand lemon because they must inspect it first.
Owner Background
You can view the owner's history on the vehicle history report, which should indicate whether the manufacturer has purchased the vehicle back.
While owners can claim a car is a lemon in a legal dispute and ask the automaker to buy back the problematic vehicle, that is a guaranteed technique to determine if the car was labeled a lemon.
You can also determine if the vehicle was sold or traded before it was given a lemon tag if the prior owner may have missed an issue. It also implies that the car's persistent issue must be apparent.
Repair Record
Look carefully at the vehicle's repair record and try to identify any recurring issues. Recurring problems in cars with lemon histories are simple to spot.
You can determine whether the issues with the car are minor wear and tear concerns, such as those with the clutch or brakes, or a more severe problem. Check to discover if the repairs were necessary or carried out even when the car was brand new. It can assist in determining whether the car is a lemon or if an incident like a collision or modification caused a misdiagnosed issue.
Are the repairs significant or minor? A severe repair would deal with the drivetrain or suspension, whereas a superficial one would address non-driving-related issues like window or seat controls.
Severe repairs would be more challenging, but handling a car might not be a hassle if a car was considered a lemon for a less severe cause.
The report also shows whether repairs are being made at a dealership or a general shop. Like you would with any used car, examine the vehicle's general condition and health and determine whether routine maintenance has also been carried out. This will assist you in deciding whether or not you should consider purchasing this car.
Inspection before purchase
Is the car still a good investment? You should get a pre-purchase inspection if the flaws are not too concerning or if you believe the automobile may have been incorrectly labeled as a lemon.
A mechanic can determine whether the problems are repairable and why the car was considered a lemon.
A technician can assist you in determining whether or not a recurring issue is indicative of more severe problems or worries about the quality of the vehicle.
Their satisfaction with the car might help determine if it is a worthwhile investment or a lost cause.
Conclusion
German engineering has consistently shown itself to be the best in the world, yet it has encountered challenges about as frequently as it has achieved success.
I wouldn't need to discuss the greatest and worst years for the Audi A4 if the manufacture of the various models had been better, but alas, problems can occur for every lineup and brand.
As this essay draws to a close, you should be equipped with the knowledge to steer clear of subpar Audi A4 models and get the best one available.
Audi A4 FAQ's
When was the Audi A4 dependable?
2012-2013 models are without a doubt the most dependable years. The Audi A4 was ranked as the best small sedan for 2012 by U.S. News, despite being free of some mechanical problems like excessive oil consumption and engine breakdowns.
Which engine in the Audi A4 is best?
The 2.0 TFSI inline 4 gasoline engine is the finest overall option for the Audi A4 B7. If driven carefully, it provides excellent performance and is somewhat efficient. This engine's biggest drawback is that it could have issues with oil consumption.
How reliable is a used Audi A4?
Breakdown of the Audi A4's reliability rating. With a reliability rating of 3.5 out of 5, the Audi A4 is ranked 14th among 31 luxury midsize automobiles. It has average ownership expenses since the cost of annual repairs is $739 on average.
Which Audi model has ever been the most dependable?
Audi A3. The third-generation Audi A3 served as the perfect compact hatchback (or small sedan) on the new and used car markets for seven years. This high-end hatchback has cutting-edge technology, a stylish interior, powerful engines, and an amazingly well-balanced chassis. It's also the most dependable Audi you can purchase.
Is buying an Audi A4 worthwhile?
If you're looking for a new luxury sedan, the A4 should be at the top of your list. The cabin and performance of this Audi are both excellent. Its beginning price is also comparable to the average for the class. However there are lots of excellent selections in this section.