Audi A8 Best and Worst Years (Quick Facts!)
The Audi A8 is the automaker's top-of-the-line luxury sedan, with a hefty price tag to match.
Audi is one of the pioneering automakers that paves the way for luxury and a new era of safety tech, so you don't have to buy one fresh new to experience all of its contemporary style and innovative technology.
For this reason, many older Audi models can be found with just as many comforts as modern vehicles. The easiest way to get an excellent automobile without the exorbitant expenses appears to be to purchase a secondhand Audi A8.
However, there is one model year you should avoid altogether.
Are you an Audi Fan? Maybe you like this article: reliable Audi cars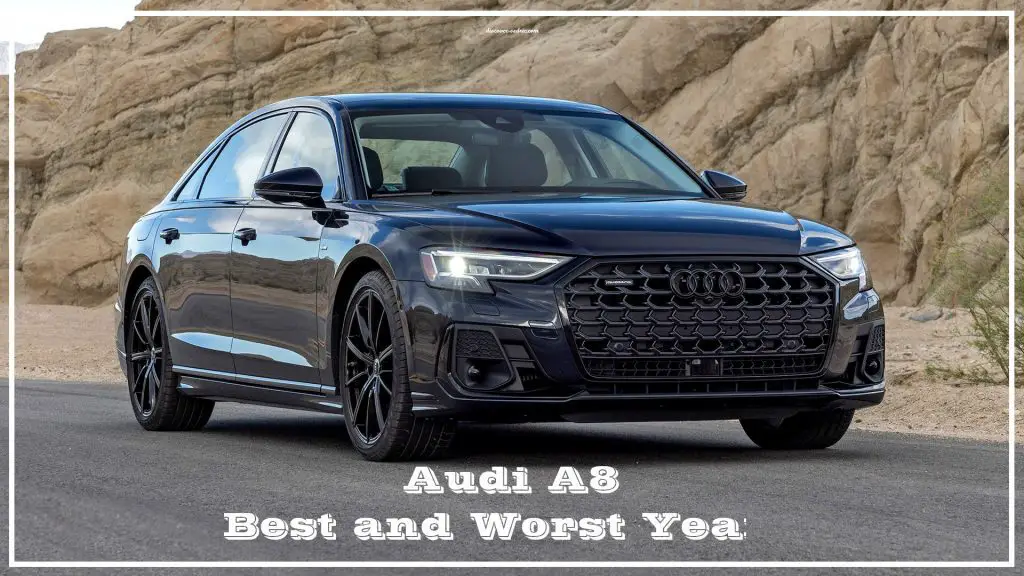 VIDEO: Audi A8 L
Audi A8 Best and Worst Years
The 2020 Audi A8 is a model year to avoid, claims MotorBiscuit. Luxury Vehicles A2Z advises the 2011 model as it is well-liked by most owners. According to Ranker, the 2007 and 2011 variants are among the top Audi A8s ever. The updated 2019–2022 models received excellent reviews from Consumer Reports. According to Distinct Car Review, the Audi A8 (D4) from 2010 to 2017 is one of the most dependable Audi A8s ever produced.
Audi A8 Overview
The German company Audi has produced and sold the Audi A8 full-size premium automobile since 1994. The Audi A8, which replaced the Audi V8, is currently in its fourth generation and is available with front- or permanent all-wheel drive and in short- and long-wheelbase versions.
The current version is based on the MLB platform, while the prior two generations used the VW Group D platform. Audi introduced the second generation in late 2002, the third in late 2009, and the fourth and most recent in 2017.
The first model was introduced in 1994. All A8 models have utilized this construction technique, co-developed with Alcoa and marketed as the Audi Space Frame, making the A8 the first mass-market automobile with an aluminum chassis.
The Audi S8 made its début in 1996 as a high-performance, mechanically improved version of the A8. The S8, made only in Audi's Neckarsulm plant, is standard equipped with quattro all-wheel drive.
Only a short-wheelbase model was available for the first three generations of the S8; starting with the fourth generation, a long-wheelbase model was added.
Which A8 model year should you stay away from?
Almost all model years have shown the Audi A8 entertaining and valuable, but reliability is one important and worrying area.
Consumer Reports claims that the A8's current model year's anticipated dependability rating could be better, and this is because one previous model year's reliability tests were not successful.
There have been a few recalls specifically for the 2015 model year, and they have caused owners to feel somewhat uneasy.
Although some of these recalls are less significant than others and are being handled by Audi, you may want to do something other than dealing with them for a car several years old.
The fuel system is the subject of every recall, which can be as frightening as it sounds. Most recalls are related to fuel system leaks, whether from the fuel rail or the pipework. If fuel leaks in the wrong spot, it could result in a car fire, which could be dangerous if it spreads back to the source.
You can always double-check the VIN through Audi directly to see what recalls your car applies for, and they will even tell you if the recalls have been serviced or not yet.
This was just a worry for part of the models produced. Audi provides this free service, which may be completed online using the vehicle identification number (VIN).
As a result, you can check this before actually making the purchase.
Learn more about this topic Audi Q5 Best and Worst Years and (Quick Facts!) Audi Q8 Best and Worst Years (Quick Facts!)
There are still many advantages to the Audi A8.
Although the Audi A8 has some dubious reliability issues, it is still a fantastic automobile in general. If you are okay with making a few trips to the dealership to have your car serviced under warranty, you might not be too concerned about its difficulties.
What the automobile lacks in durability it more than makes up for in luxury.
The A8, like the majority of other Audi vehicles, has held up well over time, and you can still purchase a 2015 model year while receiving the cutting-edge style you'd anticipate from a 2020 model year car.
Although the technology differs depending on the trim level, the interior is lined with high-quality materials and won't disappoint you.
How many miles should an Audi A6 get?
The parent company of Audi is the German automaker Volkswagen, and though neither brand is renowned for its dependability, it's safe to say that its vehicles are made to last.
In a recent Consumer Reports survey, Audi ranked 15th out of 28 auto brands for reliability, while Volkswagen came in at number 24.
There is much proof that an A6 can endure 200,000 miles, and you can even find a couple on used car websites close to the 250,000-mile threshold.
After putting on so many miles, dependability declines, and should one of the significant components, such as the engine or transmission, malfunction, the repair expenses would probably exceed the vehicle's value.
Repair expenses (including parts and labor) for premium European vehicles not covered by a guarantee can be very high.
The length of time your A6 will last depends on how well you take care of it, how you drive, and to some extent, luck.
Although these cars are undoubtedly designed for performance and speed, driving them at high speeds, like James Bond, can hasten wear and tear and reduce their lifespan.
If you stay away from these things, your Audi A6's lifespan will be shortened.
Utilizing durable components
Servicing arrangements
Standard oil changes
Common vehicle washes
Tire turning
Driving fluidly
Audi provides a 4-year/50,000-mile powertrain and a 4-year/50,000-mile standard warranty.
What issues does the Audi A6 have?
Although the A6 is a fantastic all-around vehicle, it is not faultless.
Recalled Airbags
Over the years, there have been several airbag problems with the Audi A6, and numerous high-profile recalls, such as the infamous Takata recall, affected millions of vehicles.
The most recent airbag recall, made in response to a malfunctioning sensor that could prevent the passenger's airbag from deploying, affected A6s from 2012 to 2018.
Always check your vehicle's VIN on the NHTSA website to determine if it has been subject to a recall.
Website Storage Space Auto 
The A6 has been criticized by Car & Driver for having little cubby storage space.
Owners frequently lament the high oil usage of their Audi vehicles, and this isn't only an issue with the A6.
In other cases, there may be no mechanical issue with the car, and Audi has said in the past that high oil consumption is typical.
Nonetheless, defective piston rings are frequently to blame.
Audi offers a two-part oil consumption test to determine whether or not your oil usage is excessive.
What does a high-mileage Audi A6 mean?
Over 100,000 kilometers on an Audi A6 is regarded as high mileage. At this point in its lifespan, the car's parts and components will have undergone some wear and tear, making repairs more likely. Repair expenses not covered by the manufacturer's guarantee can be high.
It truly depends on how well it's been cared for whether buying an Audi A6 with a lot of miles on the odometer is a terrible investment.
An A6 with high mileage that has been well-maintained is preferable to one with low mileage that has been mistreated severely.
When purchasing a used Audi A6, take into account the following:
Try it out for a spin.
Ask the owner to leave the car cold to see how readily it starts. Watch for odd driving noises, such as tapping, knocking, or clicking.
History of maintenance.
The owner must show proof in writing that the vehicle has received the necessary maintenance at times specified by Audi.
Check for corrosion.
Rust is an issue that will become worse, so always inspect underneath the automobile.
The number of prior owners.
Fewer owners are generally preferable because they tend to cause more wear and tear.
Check the inside.
The interior's condition will provide important hints about how the owners maintained their A6.
How Can You Tell Whether Something Is a Lemon?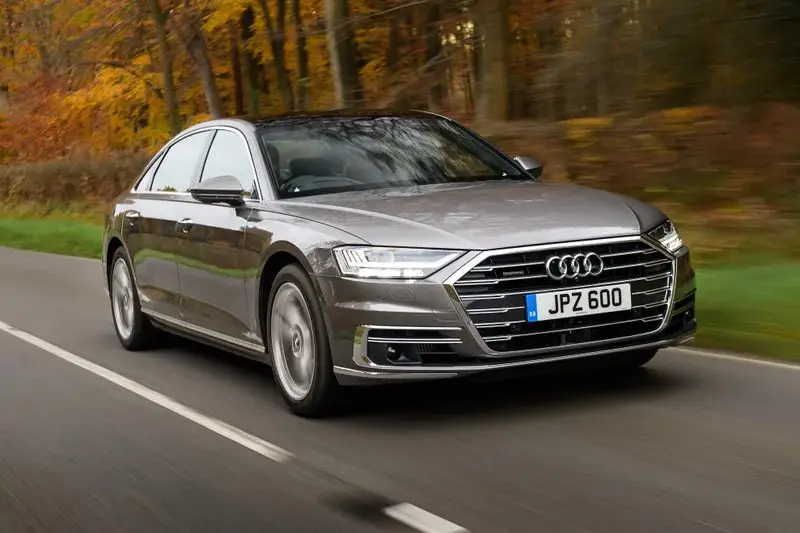 Purchase a vehicle history report.
There is no better initial step when purchasing a used car than to obtain a car history report. Two well-known services offer this information for little money: Anyone looking to purchase a used car will find the information provided by CarFax and AutoCheck extremely helpful.
The reports let you know the number of past owners, whether or not it had any accidents, how frequently it required maintenance, and the current title.
The final section is among the most crucial since it contains the lemon label, which attests that the car followed the correct legal procedures to be designated as a lemon.
However, in some areas, dealers must inform a customer if the vehicle is a manufacturer buyback, which is a reliable way to determine whether a vehicle has a lemon title. However, it is the responsibility of the buyer to conduct a thorough investigation into the vehicle's history.
Therefore, consumers may need help if they accidentally purchase a secondhand lemon because they must inspect it first.
Owner Background
You can view the owner's history on the vehicle history report, which should indicate whether the manufacturer has purchased the vehicle back.
While owners can claim a car is a lemon in a legal dispute and ask the automaker to buy back the problematic vehicle, that is a guaranteed technique to determine if the car was labeled a lemon.
You can also determine if the vehicle was sold or traded before it was given a lemon tag if the prior owner may have missed an issue. It also implies that the car's persistent issue must be apparent.
Repair Record
Look carefully at the vehicle's repair record and try to identify any recurring issues. Recurring problems in cars with lemon histories are simple to spot.
You can determine whether the issues with the car are minor wear and tear concerns, such as those with the clutch or brakes, or a more severe problem.
Check to discover if the repairs were necessary or carried out even when the car was brand new. It can assist in determining whether the car is a lemon or if an incident like a collision or modification caused a misdiagnosed issue.
Are the repairs significant or minor? A severe repair would deal with the drivetrain or suspension, whereas a superficial one would address non-driving-related issues like window or seat controls.
Severe repairs would be more challenging, but handling a car might not be a hassle if a car was considered a lemon for a less severe cause.
The report also shows whether repairs are being made at a dealership or a general shop. Like you would with any used car, examine the vehicle's general condition and health and determine whether routine maintenance has also been carried out.
This will assist you in deciding whether or not you should consider purchasing this car.
Inspection before purchase
Is the car still a good investment? You should get a pre-purchase inspection if the flaws are not too concerning or if you believe the automobile may have been incorrectly labeled as a lemon.
A mechanic can determine whether the problems are repairable and why the car was considered a lemon.
A technician can assist you in determining whether or not a recurring issue is indicative of more severe problems or worries about the quality of the vehicle.
Their satisfaction with the car might help determine if it is a worthwhile investment or a lost cause.
Audi A8 FAQ's
Which Audi A8 engine is the most trustworthy?
The Audi A8's problems, however, are more easier and less expensive to fix. The model with a diesel engine is the best alternative if you want the most reliable one.
Are ancient Audi A8s trustworthy?
Breakdown of the Audi A8 Quattro's reliability rating. With a 1.5 out of 5.0 reliability rating, the Audi A8 Quattro is ranked 28th out of 30 luxury fullsize sedans. Poor ownership expenses are indicated by the $1,298 average yearly repair cost.
Is purchasing an Audi A8 worthwhile?
Is the Audi A8 a Decent Vehicle in 2023? The A8 is an excellent luxury large car for 2023, yes. It has executive-class seating, luxurious materials, a luxurious ride, and a ton of technology, all of which you would expect from a brand's top-of-the-line sedan.
What years are ideal for the Audi S8?
Our top choice for the S8's finest value for the current model year is the 2018 Audi S8. With the 2018, you would only spend, on average, 62% of the price as new, and the car would still have 67% of its usable life. The S8 is particularly appealing in the 2022 and 2015 model years, and both offer a respectable value.
Is the 2008 Audi A8 a decent car?
The benchmark and expectations for what a car should be are set by the 2008 Audi A8. The 2008 Audi A8, often known as the "Transporter" from the movie, boasts all the latest features. Performance, Comfort, and Quality are superior to other brands.