What Is Toyota Entune System? [Answered]
The Toyota Entune in-car infotainment system is a collection of apps and tools that provide you quick access to a variety of features via a touchscreen monitor in your Toyota.
Entune connects with your smartphone via the Entune App Suite to bring music, turn-by-turn navigation, weather information, local fuel prices, and more to the touchscreen monitor.
The Entune App Suite works with Apple, Android, and BlackBerry phones, and it works with your existing data plan, so you won't have to pay for any additional subscriptions.
Entune has won multiple praises since its debut in 2012 on the Toyota Prius v as an easy-to-use and extremely intuitive information and entertainment system.
Its touchscreen interface, tactile buttons, and voice control allow drivers to spend more time on the road and less time seeking for information on the screen.
Even in traffic, the simple app interface and easy-to-read menu make accessing your favorite systems a breeze.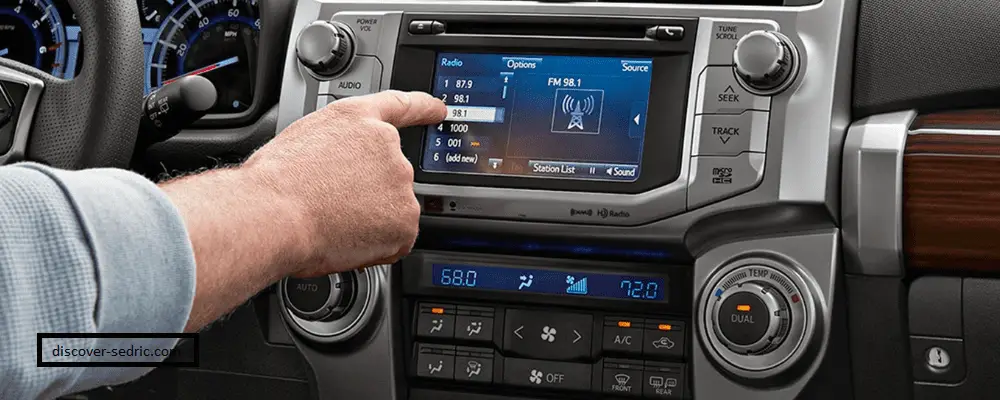 Related Articles:
Is Toyota Entune available for free?
Unless you want to add a satellite radio plan, Entune does not have a membership fee today.
Entune's $0 cost increases the value of all Toyota automobiles.
It uses the service because it is valuable in so many circumstances.
How Does It Work?
From within the Entune App Suite, the Entune system uses your smartphone to access the offered functionalities.
Entune is as simple to use as pairing your phone with the in-car system once it has been downloaded to your phone.
When you turn on your vehicle's touchscreen, it becomes an extension of your smartphone, with all of its functions and data.
It also allows you to customize particular touchscreen buttons so you can find your favorite tools and programs quickly.
Depending on the car type and feature range selected, the Entune system's screen size ranges from a conventional 6.1-inch monitor to as large as 9-inches.
Many of the Entune feature sets include advanced voice recognition and Siri® Eyes Free.
Features of Entune
There are three levels of features in the Entune system.
The Entune Audio system, for example, comes with Bluetooth streaming, enhanced voice recognition, Siri® Eyes Free, an aux connector, and a USB 2.0 interface. SiriusXM®, HD radio, Scout® GPS Link, traffic, and weather are all included in the Entune Audio Plus system.
Finally, in compatible vehicles, the Entune Premium Audio system offers all of the above capabilities as well as integrated navigation, the entire Entune App Suite, and JBL® Audio.
Entune is currently offered as part of the standard feature set on every new Toyota vehicle.
The Entune Premium Audio system with Entune App Suite is available as standard or optional equipment on most Toyota vehicle.
The Toyota Entune has 9 incredible features.
Toyota was the star of the 2017 Consumer Electronics Show.
The Toyota Concept-i design and technology were unveiled by the well-known automobile manufacturer.
That wasn't all, though.
They presented a demonstration of the Toyota Entune 3.0, the next generation of the Entune system.
This multimedia android auto interface ensures that you are always connected and entertained.
But what can this interface actually do?
Continue reading to learn about nine of the Toyota Entune's best features.
1. WiFi Access On-Board
A automobile with built-in WiFi?
Yep. It sounds too futuristic to be real, yet Toyota Entune 3.0 does just that.
Toyota teamed up with Verizon to provide internet access inside the vehicles.
Data Communications Modules provides the internet service, and you can connect up to five devices at once.
For families with a large number of children, this is a major selling factor.
They can use the car's WiFi without using up any of the family's data.
They're also free to play on the go.
This is a win-win situation for both parents and children.
2. Entune Apps are available in a variety of formats.
To get access to all of the new Entune apps, you had to pay for Entune Premium previously.
As part of the latest edition, you can now enjoy an even wider range of apps accessible on the Toyota Entune app suite.
You can use Pandora, for example, to listen to your favorite musicians.
Alternatively, you can use the OpenTable app to make a reservation while driving to the restaurant.
With the app suite, the possibilities are unlimited.
And they're all working to make the driver's life easier.
The goal is to improve safety by making it easier to accomplish actions that do not require the use of one's hands.
3. There are numerous entertainment options available.
Entune is one of the most comprehensive entertainment devices in the automobile business right now, thanks to onboard WiFi and a multitude of apps.
It's very groundbreaking to be able to connect up to five devices at once. It also ensures that each member of your family has a unique experience.
It also implies that studying entertainment is more accessible.
Do you like your kids to play some educational games before going to school? Easy!
Do you want your spouse to improve their professional skills by listening to a podcast on their commute to work? Done!
4. Bluetooth Phone Features
You can stay focused on the road while accepting phone calls thanks to Toyota Bluetooth pairing features and technologies like Siri.
While this isn't exactly groundbreaking, the Siri Eyes Free app that they provide is.
Toyota Entune connects your smartphone to the steering wheel controls.
You press a button in the same way that you would contact Siri on your phone.
Then you can send texts, make phone calls, and set calendar reminders with ease.
5. It's Simple to Stream Files
You can quickly stream files from your smartphone to your automobile thanks to the new Bluetooth features.
This is a small change, but it makes things a lot easier. Instead of plugging a USB into your car's socket, you may just Bluetooth the files to your audio system and listen to whatever audio or media you have on your phone.
This makes it simple to listen to podcasts and downloadable audiobooks.
6. Car Controls from a Distance
One of the nicest features of Toyota Entune 3.0 is Remote Connect.
If you believe you have forgotten to lock your car, simply connect to it using the app and lock it remotely. You may use the app to impose restrictions for guest drivers.
This cutting-edge technology allows you to operate your vehicle from any location.
What's the best part? It will also provide you with feedback reports.
This tool can provide you with a variety of feedback, including excessive speeding alerts and location notifications.
7. Connected to Keep You Safe
You can use Remote Connect and Safety Connect in addition to Remote Connect.
For families with teenage drivers, this is one of the most useful aspects.
The Safety Connect function will immediately send an alert to emergency personnel if you or your children are involved in an accident.
If you need roadside help, it works the same way, which is fantastic for folks who don't have AAA.
If your automobile is stolen, it can also be used as a stolen vehicle locator.
8. Enhanced Navigation
Scout GPS Link is the name of the Toyota navigation app.
Except for the way it provides information to drivers, it's not unlike to ordinary navigation systems.
Toyota drivers will be able to examine maps with destination assist contact in two or three dimensions, display their speed, and even receive predictive traffic updates in their vehicles.
Toyota takes pride in offering the most up-to-date driving directions map, destination assist connect and traffic information, ensuring that your directions are the shortest and most efficient possible.
9. JBL Premium Audio by Entune
If you want to upgrade, go with the device that has JBL audio.
Not only will your Entune have all of the apps and features that conventional versions have, but it will also have high-quality speakers to improve the experience.
Toyota presently offers four Entune interface options:
Audio by Entune
Audio Plus by Entune
Entune Premium Audio with Navigation and App Suite is a premium audio system with integrated navigation and an app suite.
Premium JBL Audio with Navigation and App Suite from Entune
Choosing the proper one is mostly determined by your preferences and requirements.
There isn't a definitive solution.
They're all simple to operate with the touchscreen.
The upgrade with JBL Audio, on the other hand, is quite slick because the audio system is fantastic.
Why Does Entune Make a Great Addition to Your Toyota?
Your new Toyota vehicle is more connected and advanced than ever before thanks to Entune.
This unique combination of capabilities allows you to communicate, navigate, and listen to your favorite music while remaining focused on the road.
Entune is easy to use, has a lot of functions, and it works with your existing phone's data connection. What could be more straightforward? 
Toyota Model/Vehicle With Toyota Entune
Toyota Avalon
Toyota Camry
Toyota Sienna
Toyota Mirai
Other Expected Toyota Model/Vehicle To Have Toyota Entune 3.0 In The Future
Toyota Tundra
Toyota Corolla
Toyota Land Cruiser
Toyota Highlander
Toyota Rav4
Toyota Tacoma
Toyota Yaris
Frequently Asked Questions (FAQ)
How much does Entune cost per month?
It will be free for the first three years, after which it will cost $8 per month or $80 per year. Consider Remote Connect to be your car's smartphone app.
You'll be able to perform things like start your car remotely, lock or unlock doors, and set parameters for guest drivers.
Is Toyota Entune any good?
Finally, it boasts one of the most comprehensive and useful app suites on the market.
It's one of the best infotainment systems you'll find in a car today, together with the latest version of Volvo Sensus Connect.
It's enough to maintain Toyota Entune at the top of the infotainment sector, earning our Editors' Choice award.
Has Entune been discontinued?
Toyota has withdrawn the Entune app. Toyota now has its own mobile application.