The Most Reliable Acura Models: Best and Worst Years*
What are the Most Reliable Acura Models? To get the perfect new car, you should also be on the lookout for affordable pre-owned options.
This is true of Acura, Honda's high-end division that was the first Japanese premium brand to break into the American market back in the 1980s.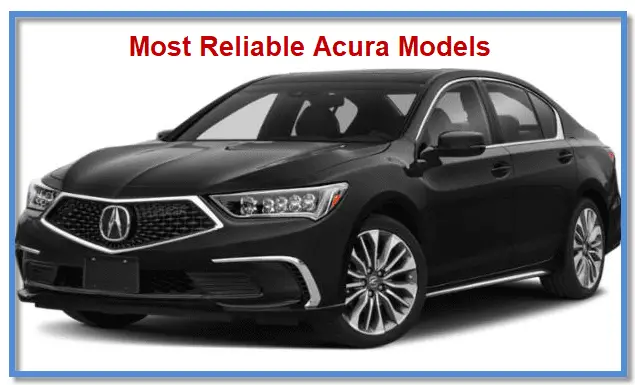 Looking for the most reliable cars? She our list of the Most Reliable Brands for all Cars.
Acura automobiles are known for their nimble response to driving inputs, comfortable suspensions, and powerful yet fuel-efficient engines.
Sport utility vehicles, or SUVs, are popular among car buyers because of their extra room and driving height. Three rows of comfortable seating are available in the MDX, and a fuel-efficient Hybrid variant gets 27 mpg in the city and on the highway.

Best Years for Acura Models
The best Acura models of the last decade include the 2010 and 2011 TSX, 2012 RL, and 2013 ILX. The TL Type S model years 2007-2008 are the best TLs, maybe even the best Acura made. The worst Acura TL is the 2012 model year. Other notable models include the fourth-generation TL (2009-2014), which added optional AWD and lasted until 2014, and the RDX, introduced in 2006 but stands out for its spacious cabin, excellent safety ratings, and poised handling in the 2016 model year. Kelley Blue Book named Acura "America's Best Value Luxury Brand" in 2019
Worst Years for Acura Models
The Acura TL has had several problematic years. According to CarComplaints.com, the 2003 model is one of the most problematic Acura TL years, with over 400+ NHTSA user complaints. The 2010 version from the last generation lineup is dubbed the worst Acura TL model by Car Complaints. VehicleHistory.com also nominates the 2012 model as the worst year for the Acura TL due to its lack of performance, style, and low safety ratings. The Acura ILX has also had some unreliable model years. The 2013 and 2018 models are considered two of the worst Acura ILX model years due to their red flags and subpar ratings from Consumer Reports
Are Honda models generally more reliable than Acura models?
When comparing the reliability of Honda and Acura models, it is worth noting that both brands have established a reputation for dependability. However, some argue that Honda models, especially the top honda vehicles, tend to be slightly more reliable than their Acura counterparts. Ultimately, reliability can vary by specific models and individual experiences.
Most Reliable Acura Car Models (New and Used by Years)
Are Acura Cars Considered as Reliable as Other Top Car Brands?
Acura cars are highly regarded as reliable, just like other top car brands. Known for their performance and durability, Acura consistently ranks among the most reliable car brands. With exceptional engineering and meticulous craftsmanship, Acura vehicles provide both comfort and peace of mind for their owners.
Acura ILX Reliability
The Acura ILX has a reliability rating of 4.5 out of 5.0, which ranks it second out of 17 for luxury compact cars. The average annual repair cost is $435, which means it has excellent ownership costs.
The severity of repairs is low, and these issues are less frequent than average, so the ILX is one of the more reliable vehicles on the road. The 2022 Acura ILX has a predicted reliability score of 82 out of 100.

The 2013 and 2018 models have received negative reviews from Consumer Reports due to noise and poor value. However, when tested by Consumer Reports reviewers, the 2013 model received decent marks in all areas.
The vehicle received a four out of five in most performance metrics such as transmission and braking and earned at least a three out of five in comfort and convenience. Many owners complained about a rough ride, poor value, and noise with the 2013 model year.

Acura NSX Reliability
The Acura NSX is a reliable supercar. The second-generation NSX seems to be pretty reliable, with the highest mileage in the Owner's Group being 45K miles.
Consumer Reports expects the NSX to have about average reliability when compared to other new cars. The 2022 Acura NSX does not yet have a J.D. Power predicted reliability score, but a four-year/50,000-mile warranty covers it.

The first-generation Acura NSX was produced from 1991 to 2005 and is known for its sleek design, handling, and reliability. However, maintenance and repairs can be expensive due to its age and exotic car status. If you plan on buying an older Acura NSX, treat it like a classic car.

Acura RDX Reliability

Acura RLX Reliability

Acura TLX Reliability

Acura MDX Reliability

Acura Legend Reliability

Acura Integra Reliability

Acura Vigor Reliability
FAQs

Conclusion